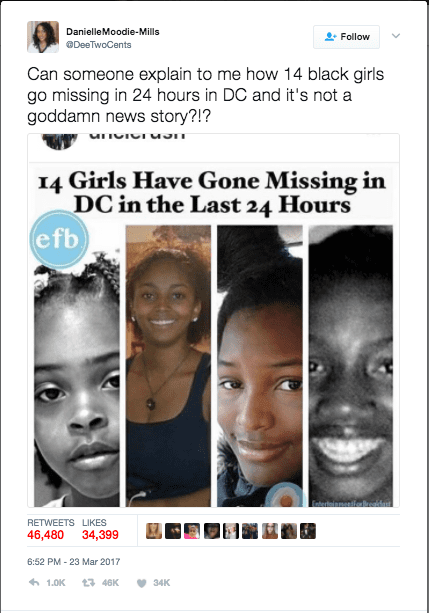 Last week, a story about 14 Black girls going missing in Washington, DC in a 24-hour period went viral. The story spawned the hashtag "FindOurGirls" on Twitter and other social media platforms as many demanded answers about the missing girls. It later proved to be a misreported story all due to the Washington Metropolitan Police Department posting the pictures of open investigations of missing children and the elderly. The police stated that the story of the 14 missing girls in a 24-hour period in Washington, DC was false. However, it did serve to shine a light to the plight of Black and missing children especially girls who make up the overwhelming majority.
The story came during the same week when members of the Congressional Black Caucus asked Attorney General Jeff Sessions and FBI Director James Comey to "devote the resources necessary to determine whether these developments are an anomaly, or whether they are indicative of an underlying trend that must be addressed," adding, "(W)hen children of color go missing, authorities often assume they are runaways rather than victims of abduction."
But unfortunately, it has also lead to conspiracy theories and fake news about missing Black girls. One such fake news story on social media came about because of a simple image that went viral about a shipping container full of Black girls in Savannah, Georgia who were rescued from human trafficking as they were about to be sent overseas.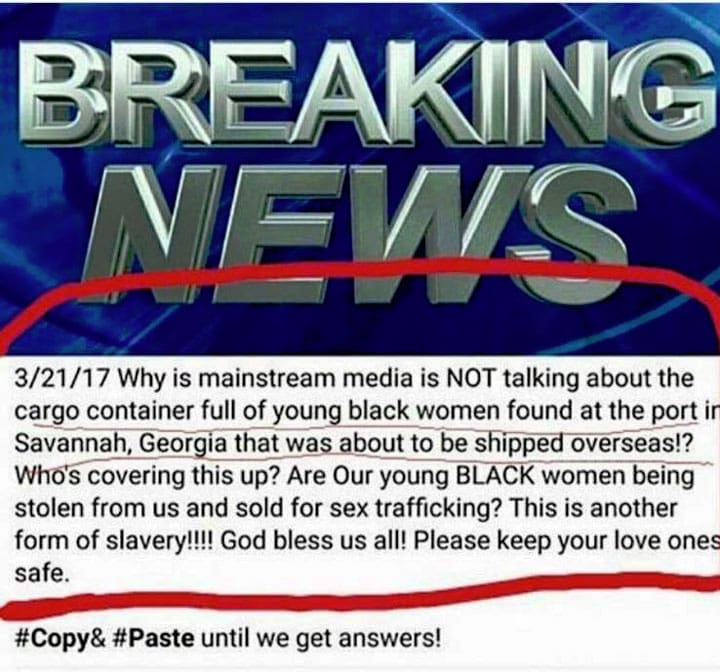 However, law enforcement in Savannah and the Department of Homeland Security has indicated that the story is a hoax. According to Deidre Harrison with Savannah Working Against Human Trafficking, "What we can currently say is that none of the claims have been substantiated by any government agency or any credible industry on this matter."
A story like this is dangerous because it relegates the serious issue of Black and missing children to the viral social media flavor of the minute. The reality is that in 2017 there were over 501 missing children cases across the country. Spreading fake news or conspiracy theories takes away from the mission of agencies who are working every day to find our Black and missing children. Simply posting a story or a hashtag is not enough and more people should support the work of organizations such as the Black and Missing Foundation Inc. (www.BAMFI.org).
In addition, most police departments in major cities have a public information officer. Using such a resource will actually give you real information about whether a story is true and what the facts of a case are all about.