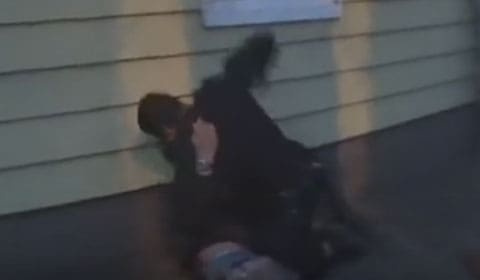 Springfield Illinois Police Officer Samuel Rosario is now in trouble after a body cam was released by his department. Rosario and another officer were responding to the scene of a domestic dispute that became heated when a 19-year-old male engaged Rosario in a series of verbal insults. The teen called the officer a "b-itch a—N-word' and told Rosario to go back to Mexico.
But Rosario was having none of that back in February of this year and responded back to the disrespectful teen in a totally unprofessional manner. He is heard saying, "No, you watch what you say. You watch what you say. You watch what you say, kid. I don't know who you think you are talking to, but (bleep), you don't talk to me like that, you understand that? I'm here to help you. I'm here to help you, and all of a sudden before I even got here, you like [expletive]."
Rosario later challenges the teen to "throw hands" and shockingly the cop engages in a physical altercation with the ten, beating him while he is on the ground. He tells his partner not to arrest the teen as he is beating the hell out of him as family members watch in disbelief. Rosario was charged with one count of official misconduct and two counts of battery for his lesson to the teen after his partner turned him in to internal affairs.
But according to his lawyer, Dan Fultz, the officer should be given a break because he had reached his limit as a human being over the verbal insults. Fultz stated to media, "He has his limits, just like every other human being, He responded to a call while he's trying to gather information, this kid keeps interrupting him making comments, making derogatory comments, and I know it's become the new national blood sport to criticize the police, but everybody has their limits and he reached his."
Rosario, a veteran and decorated officer since April 2015, has pleaded not guilty and is now free on bond. The police department says Rosario has been stripped of his powers and is on unpaid administrative leave.
The graphic video can be seen on the next page: