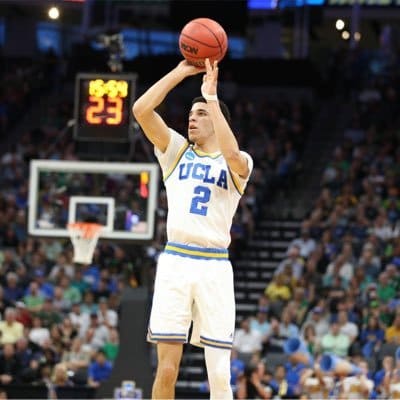 Regardless of you feel about his father, Lonzo Ball is the best prospect in this year's NBA Draft. Ball participated in the "Who's the next No.1 pick?" debate when he personally gave his opinion on the situation.
"Markelle's a great player, but I feel I'm better than him," Ball said in an ESPN interview. "I think I can lead a team better than him."
Markelle Fultz is a scoring guard with explosiveness and great strength for a guard his size. He follows in the line of previous Washington guards like Nte Robinson, Brandon Roy, and Isaiah Thomas. His game could remind some of Monta Ellis back in his days with the Golden State Warriors as a small, athletic scoring guard. Last season, Fultz averaged 23.2 points a game in 25 contests before going down with a knee injury, which is nine more points a game than what Ball averaged.
"Obviously, he's a great player, a great scorer- -I'm not taking that away from him," Ball said in the same interview.
Ball bests Fultz in every other offensive category, however, as he proved in his lone year with the UCLA Bruins. Ball averaged more rebounds (6.0) and assists (7.6) than Fultz. His offensive I.Q. is extremely impressive and he constantly made the extra pass when his team needed it. While Ball might not be as impressively athletic as Fultz, he has a two-inch advantage on him in height and as the team's point guard had a play drawn up for him where he snuck in the receiving end of backdoor alley-oops. His jump shot is unorthodox and begins around his waist area, but so did former NBA role player Josh Childress', which proves the shot is possible to survive in the league.
The most impressive and important reason, though, Ball is better than Fultz is that Ball has a history of winning. UCLA improved from a 15-17 record in the 2015-16 season, to 31-5 and a Sweet 16 appearance in the NCAA Tournament this season with the arrival of Ball. The Washington Huskies carried a winning record of 19-15 from the 2015-16 year into this season, when the team dropped to 9-22 with the addition of Fultz.
In the only college head-to-head matchup on February 4, Ball posted 22 points, six rebounds, five assists, four steals, three turnovers, and one block. Fultz dropped 25 points, six rebounds, five assists, three steals, and five turnovers. UCLA won the game, 117-66. Fultz will have a great career for sure; he's motivated to prove doubters like me wrong, but he won't make a more winning impact on a team than Ball will.