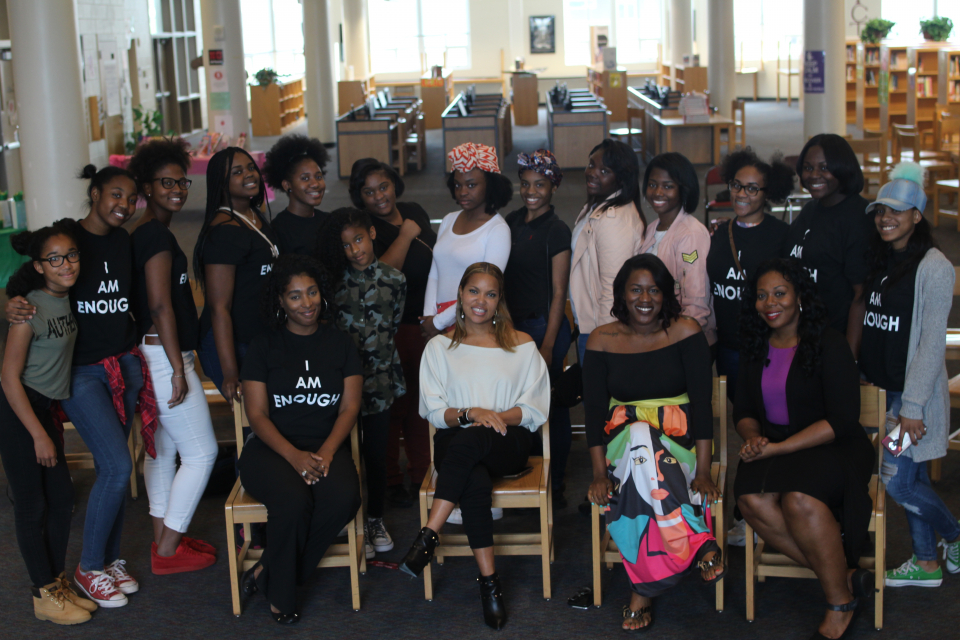 A few years ago, Bill Duke brought his documentary Dark Girl to Atlanta and I had the pleasure of working on the Atlanta premiere. I invited several celebrity women out to the Fox Theater and we watched a documentary that most of us brown girls could relate to fully. Our culture has always created a divide among darker blacks and lighter blacks, dating back to the U.S. slavery's days of house slaves and field slaves. I grew up hearing "light skin and long curly hair" were physically attractive traits in Black women. Although I hoped things would change eventually, today's cultural landscape doesn't suggest change is coming anytime soon.
Before meeting with a group of girls in a group names Elite Sisterhood at the New Schools at Carver campus, I pulled 20 lyrics from popular rap lyrics focused on skin tone.  The list included lyrics from a diverse group of hip hop artists describing women they are attracted to. Lyrics like the ones below from some of today's most popular artists remind us that skin color is still very much desirable when describing what is considered desirable for the African American community:
"I aint even been to sleep, so how I'm waking up early?/Top floor chilling with some light-skin girlies" -Young Jeezy, "Do It For You" Feat. Freddie Gibbs
"Eat a red bone like red velvet cake/F*ck a nigga wife and eat the wedding cake" -Lil Wayne, on Gucci Mane's "Cyeah (Remix)"
"Quite gifted, ambitions of life living/Despite living with more attention than light-skin-ded, women" -Wale, "Bad Girls Club" Feat. J. Cole
"Robin jeans with the wings/Yellow bone on my team trafficking them ya-means" -Future, "Same Damn Time"
Christy Rogers, executive director for Elite Sisterhood recalled her own coming-of-age story learning that two sides of her family were very different. Growing up with a fair-skinned father and a dark-skinned mother, Rogers said the only people that made mention of her skin color were the darker side of her family. Fashion designer Tracy Nicole says she was oblivious to color until a college roommate pointed out that a particular guy only liked her because she was "light-skinned." Tracy acknowledged her feelings were hurt but it opened her up to becoming more aware of how other women viewed skin color. Urban author Tamika Newhouse talked about hearing her skin color was unattractive early on but learning to block out those voices and eventually finding her inner and outer beauty on her own.
All four gave their personal testimony to the room of 25 teenagers before listening to the girls' feedback. We listened as the girls explained their interpretation of those lyrics and more. Surprisingly, some of the girls suggested having a father in the home telling them they were beautiful made them less susceptible to feeling bad if a boy they met wasn't attracted to them or tried to make them feel bad.
Listen to the conversation, after the break.