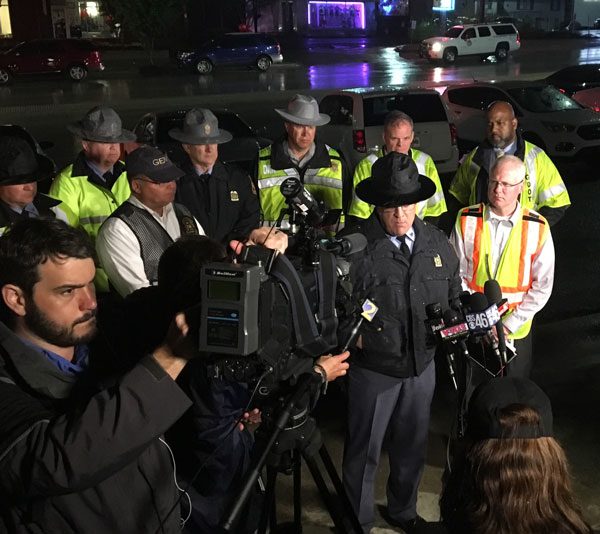 The city of Atlanta is infamous for its grueling rush hour commutes and now it is facing a nightmare that will take months to resolve. A major bridge overpass on the I-85 connector collapsed yesterday due to a fire and traffic to the downtown Atlanta area is being diverted to side streets and alternative roads around what is known in the city as the Perimeter.
At this time, authorities suspect that the blaze started with construction materials under the bridge on I-85 northbound just south of Ga. 400 near Piedmont Road and collapsed about 7 p.m., Atlanta fire spokesman Sgt. Cortez Stafford confirmed. Fortunately, there were no injuries, but the interstate became a parking lot for hundreds of vehicles as first responders battled the blaze which compromised the remaining portion of the structure. Georgia Gov. Nathan Deal has declared a state of emergency for the city because of the situation. According to the Georgia Department of Transportation Commissioner Russell R. McMurry, the catastrophic incident significantly affected I-85 and the broader transportation network.
It will be a significant economic blow to Atlanta as long haul truckers will not be able to make regular deliveries or travel through the area. In addition, local businesses, including restaurants, shopping centers, and offices will suffer as workers and customers must find another route to their destinations. Some suspected terrorism but this concern was dispelled by Atlanta Mayor Kasim Reed who has been in communication with the FBI and transportation officials. "This is as serious a transportation crisis as we could have. The governor has been leading and we have been acting on it. Our primary concern, first and most important, is that no one has lost their life. And as we stand here right now, we think that's the situation," Reed stated at a press conference.
Atlanta area residents and visitors are being told to avoid the downtown Atlanta area as well as the popular shops and restaurants of the trendy Buckhead portion of the city. At press time, the fire had been extinguished but portions of the bridge are still smoldering. Repairs on the bridge will take several months and comes at a time when spring break has started for schools and some colleges in the Atlanta and surrounding area. The area affected sees 243,000 vehicles per day, in both directions.