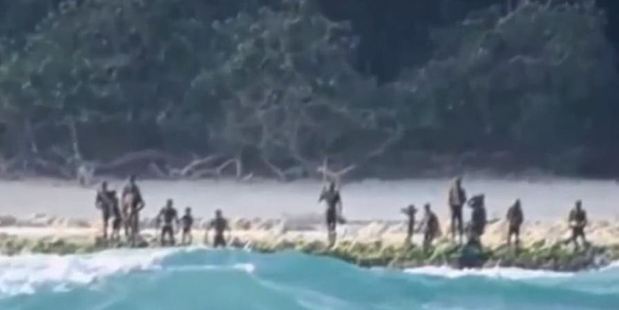 Surrounded by the inviting waters of the Bay of Bengal in the Indian Ocean is the Manhattan-sized island home of an indigenous group known as the Sentinelese. The Sentinelese are thought to have lived on the island for more than 60,000 years as direct descendants of the first humans who emerged from Africa. We know seeing the movie Get Out has given you some ideas, but don't go rushing off to reconnect with your roots in paradise just yet … at least not here. Not only is the island protected from interference by the government of India, the Sentinelese themselves reportedly don't play nice with visitors.
A video showing the island's inhabitants aggressively protecting their beachfront has received over 2.1M views for Love Bite Productions, so you won't have any excuse if you decide to hop into a rowboat for a little island excursion during your travels in India.
"It doesn't matter whether you are a friend or enemy, whether you arrived on purpose or by accident, the locals will greet you the same way with spears and arrows," the narrator states.
And who could blame them? Even former presidential candidate Dennis Kucinich, the oldest of seven children within a family engrossed in a daily struggle to survive inner-city life, often talks about the ongoing battle between humanity and so-called civilization.
"Ours was an intense experience of poverty and inequality that led to social disorganization, chronic instability that made daunting every encounter with every institution in a society, instability that created severe emotional difficulties in four of the seven children. Poverty and its partner chaos can play on people's minds," Kucinich stated in a recent keynote speech at the Conference on Poverty and Inequality at Harvard University's John F. Kennedy School of Government. "No one who escapes such an environment physically or economically does it alone. … Our political economy is structured to create poverty and inequality."
It sounds like the Sentinelese are doing just fine right where they are, without interference, and perhaps theirs is actually the most civilized society left in the world.