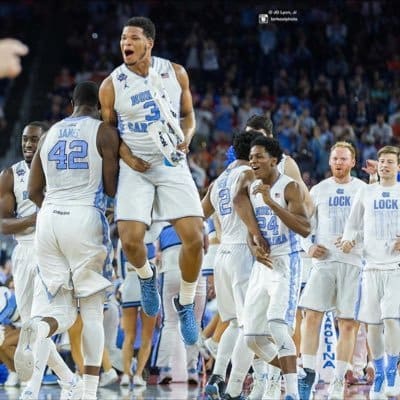 The mission of vengeance is finally complete. One year after the Tar Heels of UNC-Chapel Hill lost to a deep three-point at the buzzer against Villanova, the program topped the Gonzaga Bulldogs, 71-65. Senior guard Joel Berry II, who battled ankle issues throughout the tournament, finished the last game of his college career with 22 points, six assists, and three rebounds.
Both teams appeared to struggle with settling their nerves all night on the big stage at the University of Phoenix Stadium. Gonzaga shot 33.9 percent from the field while UNC shot 35.6 percent as a team. UNC were still victims to one of its Achille's heels all season, which was free-throw shooting. The Tar Heels shot 57.7 percent from the foul line, but they still held the advantage over the Bulldogs in offensive rebounds, assists, steals, and blocks. Senior forward Kennedy Meeks led UNC once again in the boards' category, pulling down 10 of his own. Senior forward Isaiah Hicks played the role of unsung hero in the win, scoring 13 points while grabbing nine rebounds and scoring a couple of key buckets in the final minutes of the game for the Tar Heels.
Foul trouble plagued both teams in the second half. Gonzaga had three players with four or more fouls, including freshman standout forward Zach Collins, who fouled out of the game a couple of minutes after netting his ninth point of the night to go along with his seven rebounds.
A breakaway dunk by junior forward Justin Jackson sealed the deal for UNC in the waning seconds of the game. Jackson capped off his first college national title with 16 points, four rebounds, three assists, two blocks, and a steal. The win gives UNC head coach Roy Williams his third career national championship as Sam Few and the Gonzaga men's basketball program still await its first championship.