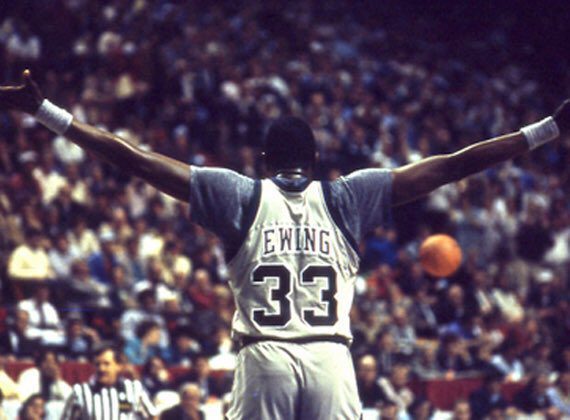 The Georgetown Hoyas' Men's Basketball team named Basketball Hall of Fame center Patrick Ewing as the program's next head coach on April 3. Ewing retired from the NBA in 2002, being named one of the 50 greatest players in league history in 1996. Here are a couple of reasons why he was the perfect hire for this program.
He's experienced 
Every season since he retired, Ewing has coached or been around the NBA as an assistant on four different teams. With the Washington Wizards, Houston Rockets, Orlando Magic, and Charlotte Hornets, he's mentored young men like fellow Hall of Famer Yao Ming, Dwight Howard, and Al Jefferson. He's actually coached so long, the discussion about him getting a head coaching gig in the league grew louder in the past three years as the New York Knicks coaching carousel witnessed four different coaches in that same time frame.
The Georgetown tradition
Since 1972, the Hoyas became known for keeping the head coaching job in-house. John Thompson, Jr. coached the program for 26 and a half years. His successor, Craig Esherick, was on Thompson, Jr.'s staff since he was a graduate assistant in 1979. Esherick's successor, John Thompson III is Thompson, Jr.'s son and he held his position for 13 seasons before being fired on March 23. Ewing is now returning to the program that he led to its lone national championship as a player. In the program's official press release for his hire, Georgetown recognizes Ewing as "the greatest men's basketball player to ever don the Blue & Gray."
A former player with the qualifications of Ewing's is long overdue a head coaching job at any level of the game. One of basketball's biggest mysteries beyond its players has now been solved and the once-respected Georgetown program should return to dominance under the name that is Patrick Ewing's. Not only was he the cornerstone of the program's golden age, but even his son, Patrick Ewing, Jr., was on the last Hoya team that made a Final Four appearance in 2007. His ties and passion for the program are inevitable, which results in something that no one could buy in a coach: a genuine love for their job. Since he is so genuine in his love for the program, the nation's top recruits respect that and his current players give that much more effort because they see that the coach cares. With that being said, Georgetown just took the first step to becoming an elite men's college basketball program again.