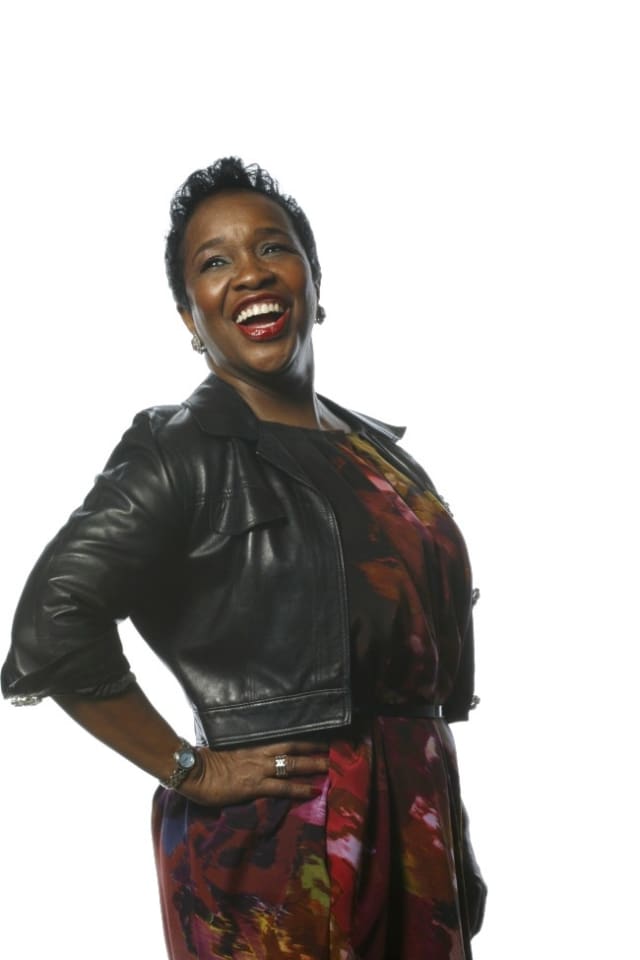 The Black Women's Expo has been showcasing Black businesses and women for 23 years. It is a highly anticipated event each year in the city of Chicago. We spoke with the founder, Merry Green, about the expo, its impact on the community and a few of her most memorable moments.
Talk about the importance of the Black Women's Expo.
We probably didn't think how important it was when we started 23 years ago. It was a radio station-generated event. The expo started as a way to really empower women. It was focused on African American women because that was the largest part of our audience at the time. There were a lot of issues going on in our community at that time and we weren't really talking about those issues. It became an event to really focus on the issues through workshops and seminars. We didn't know it was going to take off and be the kind of event that people look forward to. We didn't know that this event would give so many opportunities to small-business owners. Small-business owners are near and dear to my heart because what we saw over the years is that we don't have the same opportunities to showcase our businesses in a way that we can afford.
Why is it important to spotlight Black businesses?
I think the culture and the climate that we are living in now makes it very clear on why we should showcase our own business. We have to take care of ourselves. We have to stop depending on others to care about what is happening to us, our plight, what we have and what we don't have. We showcase these businesses and give them a leg up so that they can grow. We give them an opportunity to bring their business to their target audiences which most of the time is African American. It's important. We all talk about buy Black and bank Black but first you have to know where those businesses are. An event like an expo where we have 300 small-business owners you can certainly find almost everything that you need and use in your home. Many of the vendors and exhibitors are first-time business owners. During our exhibitors meeting we talk about set up, how to market your business, how to take advantage of the audience and other ways to promote their business. People come from all over the country to participate in this. We are the longest running exposition for African American consumers, specifically African American women. We have the track record and corporate brands support us. We continue to do things that are good for the community.
How different is it securing corporate sponsors now than it was 20 years ago?
We have a sizable number of corporate partners supporting the show now. Our new partners are Procter & Gamble, My Black is Beautiful as well as Colgate. We are very excited about these partnerships they will benefit the youth and Black women. It's very different now. When we started the show it wasn't easy. 23 years ago there were a lot of companies that were not supporting Black products or services. It was obvious; no one had any shame about it. That's just how it was back then. In my opinion the feeling from the corporations was Blacks may buy our products or use our services but we don't have to advertise to them. That opportunity helped us and was a great tool because we provide them an opportunity to see and feel the Black consumer. These days its easier. We know we are one of the most sought after consumers. We realize our buying power and they [corporations] do too. We also have a good track record; we have been consistent. There hasn't been a year where we haven't done the expo. It's become easier for corporations to look at us. They see the numbers and the crowds that we bring. Nielsen did a survey and we were astonished to find out that people were coming from 146 ZIP codes and 14 states.
What is it about Chicago that makes the expo so successful?
We are second to Atlanta when it comes to Black business owners and entrepreneurs. This is our home, this is where we began and we have some incredible media partners. What other city can you be in where the top two radio stations are in your market through iheartmedia? V103, WGCI and inspiration 1390 are the most beloved radio stations in this market by African Americans. ABC 7 is the most watched television station for African Americans in this market.
What are some of the most memorable moments of the expo.
We do an award at the gala called The Phenomenal Woman Award named for Dr. Maya Angelou's poem. She was going to be one of our very first awardees and our keynote speaker. The night before the gala her people decided they were going to switch hotels and we were fine with that. The next morning when we were setting up at the expo I got a call on my cell from her people saying that she was not going to be able to come. I said "What?!" The gala sold out because people knew Dr. Maya Angelou would be there. I started calling my advisory committee and Nicky Zoeller, who is well known in the city, said she would see if Oprah was in town. I'm thinking to myself we would never get Oprah. The agency that got us Dr. Angelou started calling me saying we can get you this person, we can get you that person and I remember saying to them that we have people in Chicago bigger than who you are naming. The only person that will do would be Oprah and we got her. We didn't tell the audience. When it came time to introduce the keynote, one of the prominent women in Chicago explained that Dr. Angelou was not coming. You could hear a big sigh of disappointment. Then right after that the audience was told we have the next best thing. Then Oprah came from the back and the women went wild. The stood up and were cheering. I was so emotional because I was a wreck about the entire situation, [so] I walked to the back of the ballroom and stood outside of the lobby. A very prominent advertising executive walked past and looked at me and asked me what was wrong. She saw my tears and said, "Girl you walk on water, nobody gets Oprah." Oprah did Maya's poem; it was incredible. The very next year, Dr. Maya Angelou came.
What can attendees expect from Congresswoman Maxine Waters?
You can expect a strong Black woman. That's how she responded to Bill O'Reilly and all of the nastiness that occurred. I think her message is going to be inspirational for all of us. We will not be intimidated. We are so excited to have her this year.
What will be different at this year's expo?
We work hard to keep the show fresh and new every year. We needed to make sure we had something for the millennials and the younger women. We have Dreezy on the bill as one of the performers. She is a platinum-selling artist from Chicago. Doing this helps us get the support of the young people for the event. K. Michelle is also on the bill for this year. Kandi Burruss from "Real Housewives of Atlanta" will also be there. We have a culinary corner [where] chefs will be showcasing their cooking skills and cuisine. We have a networking lounge. We also have a winery and brewery there owned by Black men that will be sampling their product. We have some great things this year and we are taking it to the next level.
What words of encouragement do you have for aspiring entrepreneurs?
Never give up. I know it sounds cliché, but you can never give up. I have been in business for 25 years and it can be very up and down. My mother had a favorite saying, she would say "Put one foot before the other." People will try to knock you down, but if you stay strong and stay focused, you can make it.
The Black Women's Expo runs from Friday, April 7 to Sunday, April 9 at The McCormick Place in Chicago. Check the website,  http://www.theblackwomensexpo.com/ for details.