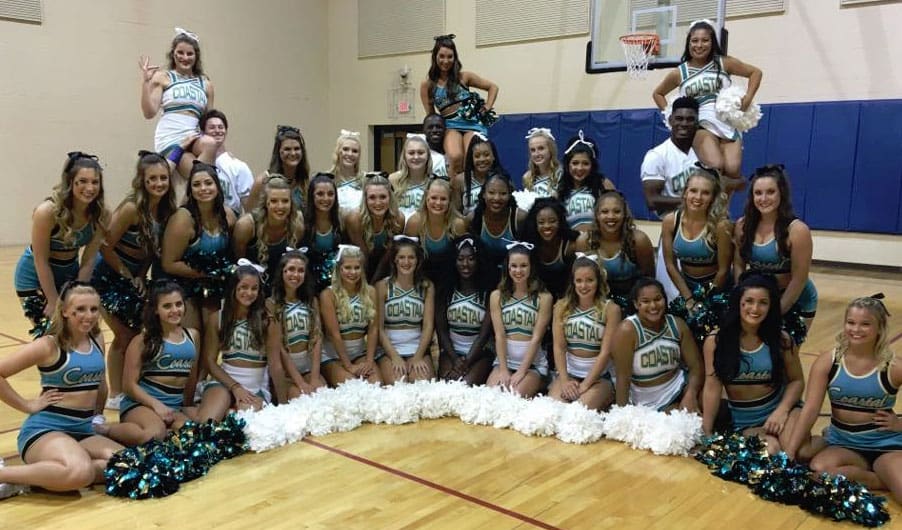 College cheerleaders play an essential part of many athletic programs. Their acrobatic and physical feats combined with crowd-pleasing cheers stay in the memory of many. But for some men and women, they also inspire sexual fantasy, despite the innocence of the cheerleader. But at Coastal Carolina University in Conway, South Carolina a scandal has arisen that got the entire cheer squad suspended indefinitely pending a conduct investigation.
It is alleged that Coastal Carolina University President David DeCenzo received an anonymous letter from a member of the cheerleading team. The writer of the letter claims members of the squad engaged in a list of inappropriate behavior including prostitution, purchasing alcohol for underage team members, and paying others to complete homework assignments.
Now police are stating that they have definitive proof that some cheerleaders at the school used a website called seekingarrangement.com to run an escort service. Documents obtained during the investigation stated that cheerleaders received from $100-$1,500 per date. In addition, some of the cheerleaders worked at area strip clubs, according to investigators. Text messages between cheerleaders advised team members working at the strip clubs, including The Doll House, to quit their jobs until after a national cheerleading competition taking place in Dayton Beach, Florida. The investigation found that 11 cheerleaders were aware of the escort service and seven were not aware.
Amy Lawrence, an attorney who is representing five of the cheerleaders, called the suspension "unprecedented" and stated to media "I am shocked and saddened to see these girls become victims of these baseless claims from an anonymous source … Even more disheartening is that these girls were not permitted due process in their own defense to show just how outlandish and ridiculous these allegations truly are."
Coastal Carolina University has removed all images of the cheerleading squad from its website since the scandal erupted.