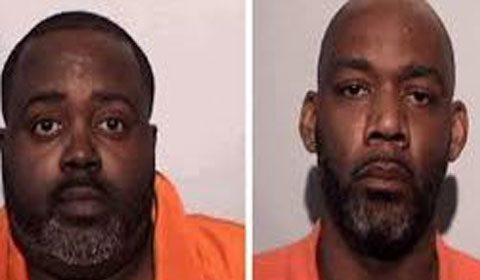 Nobody is perfect when it comes to living life and many often turn to a spiritual leader for guidance. However, there comes a time when a person ceases to be a man of God and instead becomes an agent of Satan. Two Toledo, Ohio pastors are now allegedly in that category after being arrested for human trafficking.
Pastor Cordell Jenkins, 46, founder and leader of Abundant Life Ministries in Toledo, along with Anthony Haynes, 37, are accused of exploiting a then 14-year-old Black girl in a series of sexual encounters over a period of years. According to the criminal complaint, the girl was first indoctrinated when Haynes and another woman had sex in front of her. After that encounter, there were more sexual encounters at various hotels, motels and even at the church itself. Evidence of the crime was bolstered by security camera video showing the girl entering and leaving the hotel rooms with Haynes and Jenkins. The FBI took the lead on the case and a representative stated that the most recent encounter occurred last month in March 2017.
FBI Special Agent Vicki Anderson issued the following statement to media: "We really went into our investigation; this involves minors so obviously we felt it was very urgent that we needed to get busy… Any crime that involves a child, exploiting a child, seizing on their vulnerabilities, on their trust that they have in adults, especially when people are in a position of trust…it's very concerning, it's very alarming."
The girl was coerced into sex with different men and also had threesomes where she brought along another teen.  According to the FBI, both girls were paid for the sex acts. In addition, investigators found that the girls sent sexually explicit pictures and video to Haynes and Jenkins as well as to others.
The full statement from the FBI reads:
"The Federal Bureau of Investigation (FBI), Cleveland Division, Toledo Resident Agency, and the United States Attorney's Office, Northern District of Ohio, announce the arrest of Cordell Jenkins, age 46, and Anthony Haynes, age 37, pursuant to a federal complaint and arrest warrant for sex trafficking of children. Agents placed Jenkins and Haynes into custody early Friday morning from their residences in Toledo without incident. Additional law enforcement activity occurred today in regards to this ongoing investigation.
Jenkins and Haynes are accused of knowingly recruiting, enticing, harboring, transporting, providing or obtaining a person(s) that the defendants knew was less than eighteen years old to engage in commercial sex acts. In addition to the above, Haynes is also being charged with Obstruction of Justice and Jenkins is being charged with Sexual Exploitation of Children. Both men will have their initial appearance in U.S. District Court later today. A complaint is only a charge and is not evidence of guilt. The defendants are entitled to a fair trial in which it will be the government's burden to prove guilt beyond a reasonable doubt. This investigation was conducted by the FBI's Northwest Ohio Violent Crimes Against Children Task Force. The Task Force is comprised of members of the FBI, Toledo Police Department, Perrysburg Township Police Department, Lima Police Department, Oregon Police Department, Fulton County Sheriff's Office, Ottawa County Sheriff's Office, Ohio State Highway Patrol, the Bureau of Criminal Investigation and Lucas County Sheriff's Office."