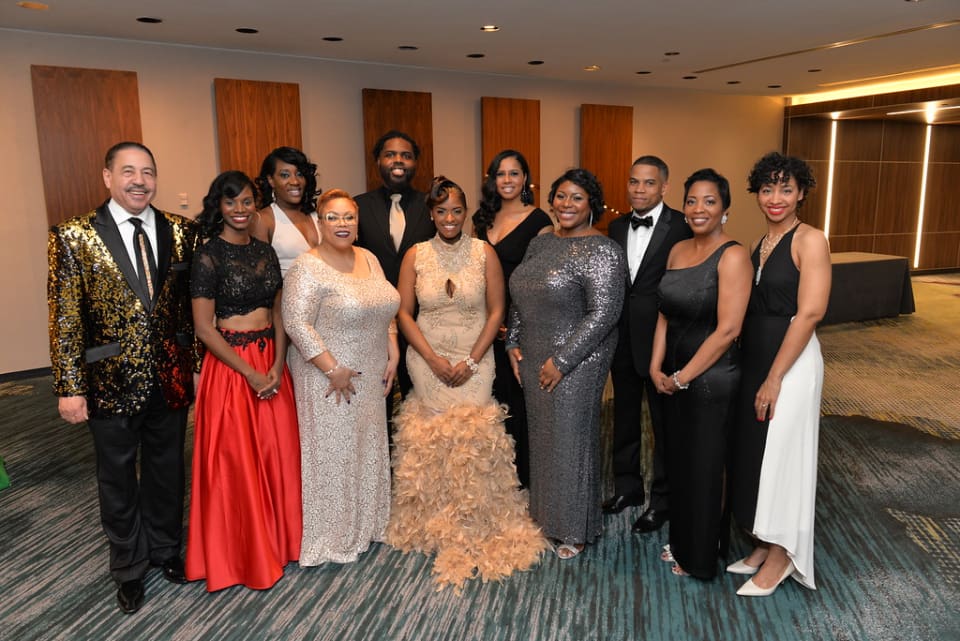 On April 8, the Wolverine Bar Association held its 56th Annual Barrister's Ball Mardi Gras in Motown at the Marriott Renaissance Center located in Downtown Detroit. Every year, more than 1,500 leaders from the legal, business, civic and political communities and various socialites attend the Barrister's Ball. Attendees enjoyed music and gathered in their best black-tie attire to celebrate the WBA's 90-plus years of success and contributions to the community. Judge Craig Strong of the 3rd District Circuit Court made this statement: "The Wolverine Bar Association is a statewide bar association which was founded many years ago because the local bar associations would not allow lawyers of color to become members. This association was put together to enhance the skills and careers of colored lawyers and to provide legal representation to the communities that we serve. Lawyers, judges, and bar associations are important because these are the people who challenged the laws of segregation and created a society that allows us to become whatever we want to be."
"This is our annual flagship event that helps us raise money to continue our efforts to diversify the profession and impact the community. We are very excited. Mardi Gras in Motown is the perfect theme to commemorate and celebrate the Wolverine Bar's history," said Jehan Crump-Gibson, president of the Wolverine Bar Association.
Awards were given for acts in the community and thousands of dollars in scholarships were given to law practicing students.
Rolling out was able to meet a few of the award and scholarship recipients. Here is what they had to say:
How are you involved in the Wolverine Bar Association? 
Dhiren Patel (Damon J. Keith Scholarship recipient): I'm new to the WBA. This is my first year as a law student and it came across to me in an email; I knew I had to get involved. I worked for the NAACP legal defense fund in New York so I knew this would be a great opportunity to put a diverse spectrum in the legal sphere.
Nicole Lockart (Wolverine Bar Foundation Scholarship Recipient): It started with Tiffany Boyd; she is a good friend and mentor of mine and she is on the board of the WBA. My cousin Judge Terrance Keith told me to make sure I got involved with the association when I started law school. They are a great association. I went through their JEP/SEP program and got placed at DTE my first year of law school. From there, I stuck with them. I've volunteered with them for the last two years for the Barrister's Ball and this year I am a recipient. I've always been loyal to them.
Renee Fluker (President's Award for Community Achievement for Midnight Golf): I am not a member, but I was chosen by the president of the WBA, Jehan. I am the founder and CEO of Midnight Golf and she was there when I only had 17 young kids in public housing. Now I've been through 2K kids. They're all in college and have jobs so she nominated me because of my work in the community. I have 10 of those students here with me today who are members of the WBA and they are mentors.
What law school are you currently attending?
DP: I am currently attending the Cooley Law School in Lansing, MI. I've worked for the past 6 years in the legal world.
NL: I am currently in my 3rd year of law school at Wayne State University.
How did it feel receiving an award/ scholarship from the WBA? 
DP: I was very shocked and surprised. I thought I had a strong application and I'm glad that the WBA thought so as well.
NL: It's really different. I am very humble. I am lucky to have the chance to be here. I'm very honored and excited.
RF: She called me on the telephone to tell me and I was shocked. She said she talks about me all the time. When you're doing great things in the community, people want to honor you. My college rate is 100% for my students and that amazing. We teach our students golf and not your usual sports such as basketball and football.
Do you plan on furthering your career in the WBA?
NL: Absolutely. It's something that is in my plans because they have helped me so much so I want the opportunity to help other students like myself.
How will this scholarship help you?
NL: Law school cost money. I plan on using the scholarship for bar prep and school. I have an interest in health law especially because I have Lupus. I plan on working with government agencies such as the FDA and making stricter rules as far as the side effects from the drugs we have to take for Lupus.
DP: I plan on using the scholarship to further myself in law school.
How do you balance having Lupus and being a law student?
NL: I got diagnosed my first year of law school; I guess the stress triggered it… I depend on God, my faith, and my family. I am a health addict so that helps me keep my symptoms under control. I stay really active and keep up with my work.
What advice would you give to someone wanting to practice law?
DP: Go for it. It's tough in terms of going through law school and I'm sure the work itself is tough but if you enjoy the law, if you enjoy practicing, if you enjoy debating about issues, I believe this is a great career to have.
NL: Don't get boxed in. Follow your passion and find your purpose. Law can get boring and robotic at times, but if you find something that you love, do that. It's hard work, but do what you love.
Photo Credit: Eric Hobson