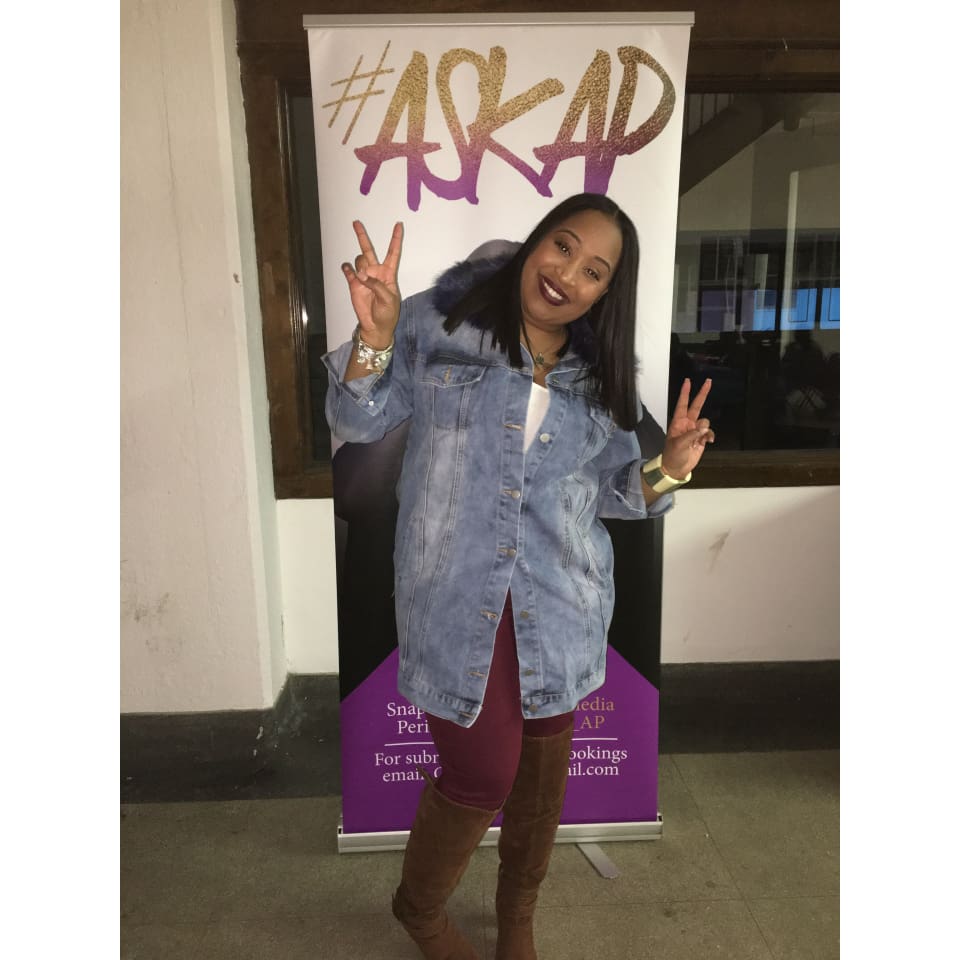 Photo Credit: Instagram @ask_ap
Most people in Detroit first met April Lockett on the radio. Starting off her career at Detroit's Hot 107.5, April "AP" Lockett has expanded her platform tremendously as a multi media personality, TV host, voice over actress and more. She is a former producer and on-air talent for "The Rickey Smiley Morning Show" and has worked with MC Serch, Charlemagne and media maven Wendy Williams. AP lent a hand to producing "The Williams Experience." After receiving her Bachelor's degree in communications from Eastern Michigan University, AP, the "Absolute Princess," took her talents to the next level by hosting the hottest events around town. She interviewed celebrities including Big Sean, Nas, Trey Songz, LaLa, Ice Cube, Young Jeezy and Diggy while pursuing her acting career. Lockett became a familiar face and was no stranger to the Detroit media scene.
After eight years, she departed from Hot 107.5, leaving many to wonder what happened to the vibrant, friendly, relatable AP. After her divorce from radio, AP's friends and former listeners began to swarm her email and social media seeking advice about relationships and everyday life. Due to this, AP developed a YouTube-based show "#AskAP" The show created the "Absolute Experience" for her loyal fans and viewers, keeping it all the way 100% when answering questions about love, sex, family, relationships, and even career advice for young women interested in a radio career. Her show is also available live on Instagram for live Q&A's. AP's transition worked out for the better, and pushed her to her purpose in people skills and entrepreneurship while doing what she loves.
Rolling out caught up with AP. Read what she shared about her journey below.
Who is April Lockett and what's something we should know about you?
My life is an open book. I love people, I naturally open up … it's whatever you want to know.
Where/how did you first start in your career?
I started off doing radio, which will always be my first love of loves. I love the radio, I love it, love it, love it! I fell in love with radio not knowing what I wanted to do early on. When I was in school, I was the one with like 7 different majors because I didn't know what I wanted to do. I always had the gift of gab, I always would talk a lot, but I didn't know that was something I wanted to do. I grew up listening to radio … all the people I used to listen to are actually still on the radio. I would always call into the radio growing up and be a part of high school reporting and all of that.
Where was your first radio gig?
I tried to intern for a minute after I graduated, but I was broke, and I needed some money! I interned with Kris Kelley for a little while which was very interesting. She was a beast, everybody knows that! God rest her soul. Then, when that didn't work out as far as them wanting to hire me, I went over to Hot 107.5 Detroit. It took a little while before I got in, and I didn't get on like an average person would have. I stalked the stations, like literally stalked them! They weren't hiring at all, no interns or employees whatsoever. I went there everyday with a resume and a demo, fresh out of college. I started March of '06. Spudd put me on the radio! He put me on the radio for one hour on a Sunday and it just went from there.
Where did you attend school? What was your major?
I attended Eastern Michigan University, and Specs Howard School of Media Arts after I graduated with my BA in communications from Eastern.
Who else have you worked with? What's your favorite memory of all the interviews you've done?
I've worked with Wendy Williams, I was her on air local producer. So, when she was syndicated here, I did her detroit market for her and I did the same thing with Rickey Smiley. Trey Songz was my most memorable! We have the best interviews, I just think he's bomb. He's a real "G".
When and why did you leave Hot 107.5?
I was let go. You know when you thought you did something good, and it ended up being bad? I felt like I did something that was good, but it turned out to be not so good. That was how that situation played out. But, now, I am still blessed and I have my very own show. Sometimes stuff has to happen in order for other things to happen. If that would've never happened, I wouldn't have Ask AP.
Could you tell us more about your show "Ask AP"? 
I hated being in front of the camera, but it came from listeners after I got let go from my position at Hot. A lot of listeners were asking me a bunch of questions. 2014 was my last year; I was embarrassed. From all the DMs, emails, text messages, phone calls about what happened, and just questions in general about stuff they wanted my opinion on. So, I took those questions, I recorded them, and that's how "Ask AP" came about.
Can we expect to see more episodes soon?
So I am in the transition of doing "Ask Ap" live and going to different events and answering questions. I want my show to be super interactive, and I'll eventually go back to filming my seasons and have special guests, etc. I really love how everything is coming together, I want my viewers to get the realness, and rawness of the D and everyday life. I want people to know that I'm super relatable.
Where can our readers find you?
You can find me on Youtube "Ask AP" and on Instagram @ask_ap!
Photo gallery credit: Instagram @ask_ap