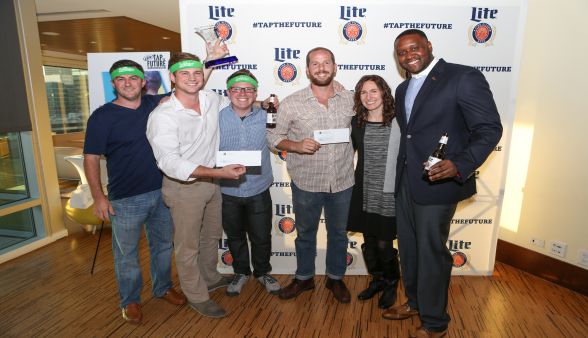 During a recent interview with Cameron Doody, co-founder and chairman of Bellhops, a Chattanooga, Tennessee-based moving company that uses technology to connect customers with college students ready to lend a hand, we learned the secret to becoming the 2014 grand prize Miller Lite Tap the Future competition winner.
Doody and his co-founders, Matt Patterson, Tripp Stanford and Stephen Vlahos remembered how in college their friends' parents used to pay them well, above market, to perform relatively easy moves each semester. So they created a business that everyone loved, an affordable collegiate and small residential moving service that operates in over 80 cities across the U.S.
They saw a tweet and randomly entered Tap the Future and won $20,000 in the live-pitch semifinals in Atlanta in 2014. "There's a funny story that goes with us entering the competition. I typically handle our external communications, PR and pitches. I was tied up at a tech conference in Nashville. Our co-founder Stephen agreed to go to Atlanta. We came up with a pitch on Friday, the Saturday before the competition. What he didn't know was there would be 500 people in the crowd and he was pitching before Daymond John. Stephen, who's a very funny guy, sat back, tossed his formal presentation out and made a heartfelt pitch that kept the crowd rolling," Doody shares.
And, they later won the $200,000 grand prize during the national finals.
"The funding came at a great time for the business," Vlahos says in a statement to press. "Putting together a pitch makes you become very self-aware and learn how to poke possible holes in the business model."
Before any pitch competition, Doody shares three things a company should have in order:
Get to the point fast. Don't get bogged down in the details. The [steps] I like to [point out] in the first slide, "here's the problem." Second slide, "the problem is really big." Third slide, "here's our solution." That basically checks off all the boxes for the investor.
As you're building your pitch, continually remember the people who are hearing this pitch are hearing it for the first time. It's very easy for a startup founder to believe everyone understands all the complexities of their business. You have to build your presentation for a 5-year-old to understand.
 You don't have to answer every question in the deck. A pitch deck is a pitch, purely a meeting to get you an interview with an investor. If you do a good job of telling the story for the points in tip 1, then investors will request a meeting with you to ask all of those follow-up questions they have.
The 2017 Miller Lite Tap the Future competition takes place in three phases.
Business Plan Submissions


The submissions begin on February 9 until April 14. Each application will be judged and scored by a team of business experts at BMO Harris bank.

Semifinals


LIVE Pitch Events – The top 25 semifinalists as selected by our judges will participate in LIVE Pitch Events taking place in five cities across the U.S.: Atlanta, Houston, Chicago, Los Angeles and New York. One winning business team from each location will win $20K and advance to the National Finals.

National Finals


The top five winning businesses (one from each LIVE Pitch Event) will present before our national panel of judges as Miller Lite Tap the Future finalists. One will be named the grand prize winner and be awarded a $100K business development prize.