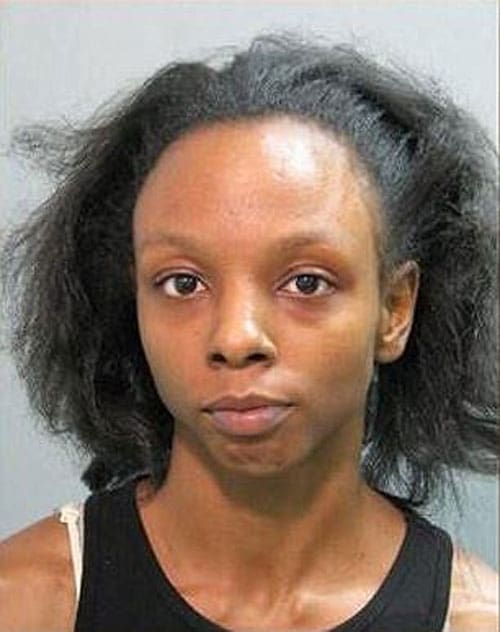 Few people can handle seeing a helpless child being abused. Such is the case of a mother who tortured her young son Jaiden, 1, in a sick act of revenge. Jamelle Peterkin, 23, of Humble, Texas, was angry with her baby's father when she found out he was talking to another woman.
In retaliation, she made a series of video recordings, in which she is seen placing a plastic bag over Jaiden's head and tying the bag into a knot around his neck. As the boy is crying, she then takes a lighter and begins burning his hand. She is heard to say, "That's too bad. That's too bad, yep, I felt the same way … Dad, you should have just left my mama out your bull****.' Say that."
She also removes the bag from the toddler's head and stuffs it into his mouth while slapping him repeatedly. The videos were discovered by the boy's aunt, identified as Ra'Neicha Broadnax, earlier this month and she stated to one media outlet, "My brother is incarcerated. His girlfriend was snooping through his phone and she saw he had her [Peterkin] on the 'Do Not Disturb' features, so she took it off and the phone vibrated for an hour straight. When she looked, there were over 300 messages from Peterkin and 64 videos." Broadnax, who lives in Virginia, was at first told nothing could be done since the incident happened in Texas. Using Google Maps, she was able to locate Peterkin's address and contacted the Humble Police Department. Police, who viewed images and more than 64 videos on the phone, performed a welfare check on the toddler at a day care facility.
The boy appeared unharmed but the case was handed to investigators who interviewed his mother. Peterkin admitted that she abused her son and made the videos more than three months ago to show the child's father he did not care about his son. However, since the man, a father of three, was in jail he had no idea his son was being abused.
Peterkin was arrested and charged with endangering a child. She was released on a $15K bond and must stay at least 200 feet away from her son. Broadnax also posted the images and pictures to Facebook to bring attention to the abuse of her nephew.