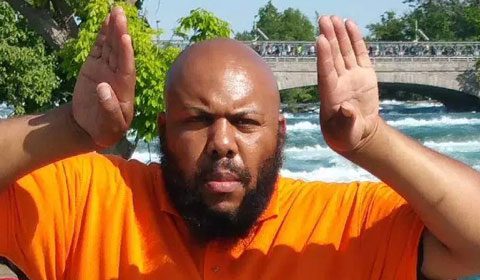 Police in Erie, Pennsylvania, are reporting a development in the manhunt for Steve Stephens. A white Ford Fusion matching the description of the car Stephens was driving was spotted by Pennsylvania State Police. A car chase ensued and spike strips were used to stop the vehicle. When the vehicle was stopped police discovered a man matching Stephens' description dead from a self-inflicted gunshot wound. A coroner was summoned to the scene and it has been confirmed that the dead man is Stephens.
On Easter Sunday, Stephens posted a video to Facebook of his confrontation with Robert Godwin, 74, as he was walking home from a family Easter gathering. Stephens, who goes by the name Stevie Steve on Facebook, recorded an encounter with Godwin on Sunday. He engages in casual talk and asks the senior, "Can you say Joy Lane?" Godwin seems confused and repeats the name and then Stephens says, "She's the reason this is about to happen to you."
He then pulls a gun on Godwin and asks, "How old are you?" The senior raises his hands and says, "I don't know, no …" and is shot in the face. Stephens then gets in his car and drives away. The Cleveland Police Department has confirmed the killing.  The cold-blooded shooting sparked a nationwide manhunt that saw a $50K reward offered for information leading to his capture.
Pennsylvania State police posted the following to Twitter:
Steve Stephens was spotted this morning by PSP members in Erie County. After a brief pursuit, Stephens shot and killed himself.

— PA State Police (@PAStatePolice) April 18, 2017