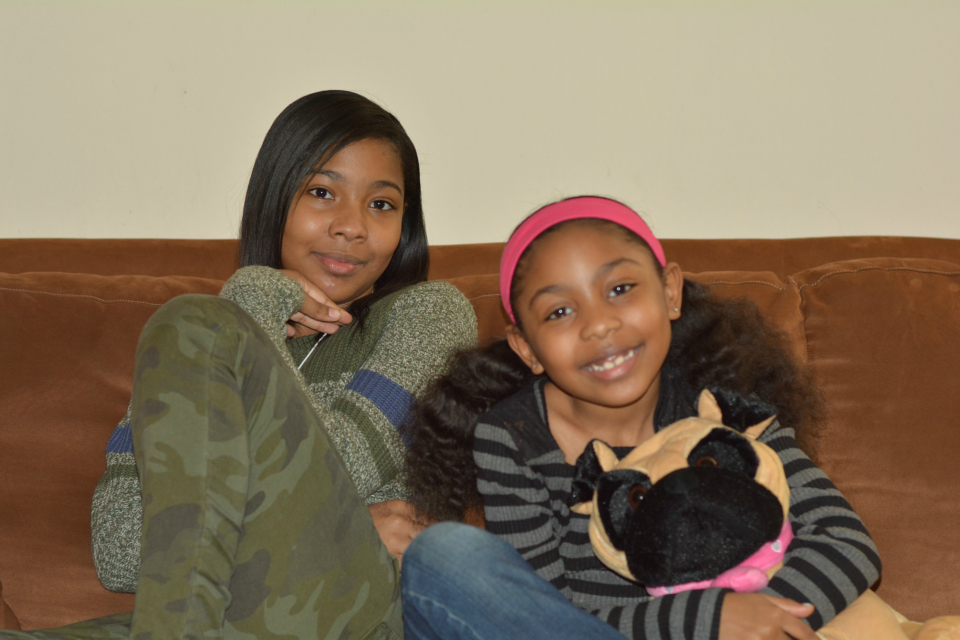 Jaylin Simone, 12 and Jasmin Alyse 7, are sisters, actress (Jasmin), and models who caused quite a stir when their Black actress photo re-creations hit social media in 2016. This year, the Rutledge sisters return with a tribute to hidden figures of Marvel, DC and other comic worlds.
While looking at comics with their dad, the sisters wanted to know if Storm, possibly the most popular African American female character in the comic world, was alone or were there more. After some researching, they soon discovered some 60 additional African American female characters who made multiple appearances, had traceable backstories and were occasionally featured in television ads.
Some even contained rarely known facts about characters such as with Nubia. Often portrayed as Wonder Woman's nemesis, Nubia was first referenced and/or appeared as her sister in 1977.
The girls immediately told mom and dad that this year's photo re-creation project would center on these characters because "these are the things that inspire African American girls everywhere." The sisters narrowed it down to the top 20 characters and revealed them to their fan base during Black History Month 2017. The photo re-creations consist of: Aliyah Bishop, Amazon, Angela Del Toro, Ashake, Cecilia Reyes, Computo, Danica William (Flash), Erin McKenzie, Fantomelle Frenzy, Heather Hudson, Jet, M Twins, Medea, Misty Knight, Monet St. Croix, Monica Rambeau, Nubia, Shuri and Storm.
Here's their interview.
Whose idea was it to pay tribute to your community in this way?
Jaylin Simone and Jasmin Alyse: It was our father's idea to tribute the community in this way because [we] always want[ed] to give back to the community but we could never quite find a way to, so this was how we did it.
Why is it important?
Jaylin Simone and Jasmin Alyse: This project is very important because it teaches young Black girls that we can be anything we want to be and not only that but last year's project paid homage to Black actresses that paved the way for [us].
What have been the responses to your creativity?
Jaylin Simone and Jasmin Alyse: The responses to our creativity has been great! There are many people that our project resonates with and we are grateful for that, however, there are some haters but that's OK with us because haters are our motivators.
What do you want to be when you grow up?
Jaylin Simone: When I grow up I want to be a writer but I would also love to own my families production company.
Jasmin Alyse: When I grow up I want to be an architect and vet.
How do you use social media? Are you on any other platforms in addition to Facebook?
Jaylin Simone and Jasmin Alyse:
We personally don't use social media but I do use it for my acting and modeling career. And yes we do use other platforms besides Facebook; we have Instagram: (@jaylinsimone76) (@jasmin_alyse), Twitter (jaylin_simone) (@jasmin_alyse), YouTube, as well as our own websites (www.jaylinsimone.com and www.jasminalyse.com).
What was the last book you read?
Jaylin Simone: The last book that I read was Hunger Games: Mockingjay by Suzanne Collins
Jasmin Alyse: The Jungle Book
What is your favorite subject(s) in school?
Jaylin Simone: My favorite subject in school is social studies because I enjoy learning about different cultures and the different time periods. My personal favorite [period] is the Victorian era.
Jasmin Alyse: English
Who are your heroes?
Jaylin Simone and Jasmin Alyse: My hero is my dad because he shows me that if you really want something then go get it and don't let anyone tell you, you can't have it.
Who are your heroines?
Jaylin Simone and Jasmin Alyse: Our hero is our mom, because she is a very strong woman, she is also our best friend.
If there was one thing in this world that you could change, what would it be?
Jaylin Simone: If I could change one thing in the world it would be that everyone got along because that is a very big problem with our world today, there is so much conflict, that's hard to enjoy even the small moments in life.