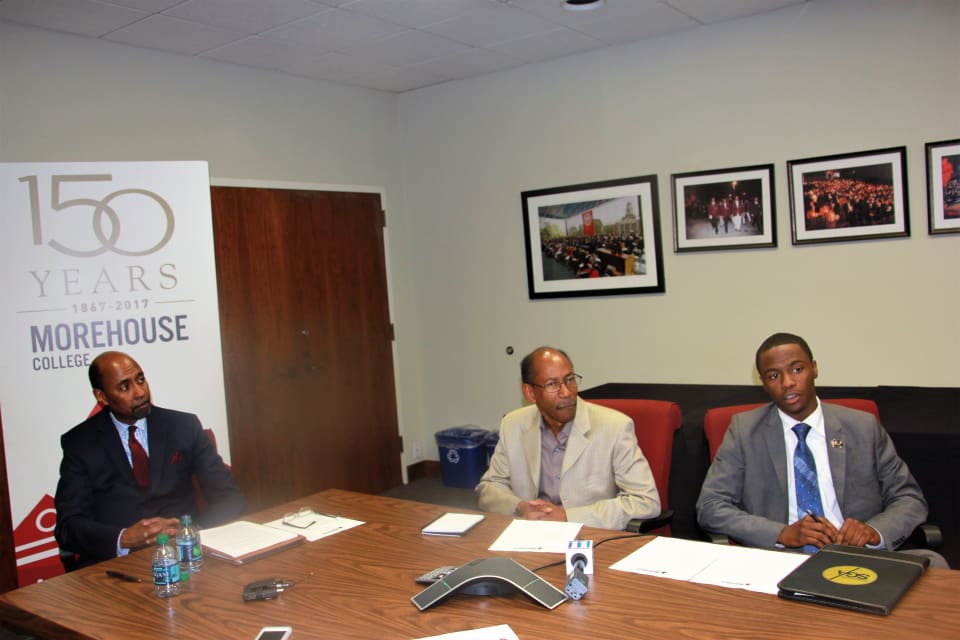 As HBCU giant Morehouse College celebrates its 150th birthday, interim president William Taggart is working to restore tranquility and educational swagger back to this prestigious and picturesque historical campus in the center of Atlanta. Taggart held his first meeting with students recently in an attempt to bring them, the faculty and alumni under one accord after a few months of tumult.
The board of trustees recently terminated the contract of Taggart's predecessor, John S. Wilson, two months before it was due to expire. The board also announced that longtime board chairman Robert Davidson and the other trustee leaders were no longer in their positions. Taggart, a longtime business executive, was named interim president. Taggart and the college's new board of trustees chairman Willie Woods met with the media recently to articulate their thoughts on Morehouse's future.
"I think what everybody has in common — whether it be faculty, staff, students or alumni — we all love the college, and at the end of the day that love showed up in the fact that we realized we had to make some leadership changes," Woods said. "And so we did. And with leadership change always comes new ideas, new thinking, different ways of doing things and, frankly, the college and any organization should encourage new leadership changes because ultimately that leads to making things better."
To help smooth out the transition, Taggart said he talked to students about his ties to the college, such as Morehouse alumni who've mentored to him, and his decades-long friendship with Woods.
"Anytime you have leadership changes, of course the students tend to bond to that president," Taggart said. "So what I've spent some time doing is spending time with students, understanding what their wants and needs are; [I] had lunch with students today and actually spoke at one of our student forums to let them get an understanding of who I am, more than just what's in the resume."
"I have a great, natural affinity to Morehouse," added Taggart, an Atlanta native who earned his undergraduate degree from Howard University in Washington, D.C. "I may not have been a Morehouse man, but I'm one in spirit."
Taggart said about more than two dozen alumni gave him contributions after the invigorating meeting, a poignant gesture that Taggart said touched him at the core of his soul. The interim president said he plans more outreach with alumni and major businesses in Atlanta to increase fundraising and recruit even more scholastic achievers to Morehouse.
"This is all about the men who have the attitude and the aptitude to go to college," he continued. "But access to college is only half the game. Its completion is what this country should be all about. And that's what we're focused on here at Morehouse."
Taggart also said he plans to meet with the Southern Association of Colleges and Schools, Morehouse's accreditation agency, later this month to show them "the real Morehouse."
Faculty had requested that SACS visit the college to address concerns that board members weren't following their bylaws by not permitting student and faculty trustees to participate in key board decisions. The bylaws have been amended, Taggart said, to reflect the desire to cultivate and harness a culture of inclusiveness.
Morehouse Student Government Association President Johnathan Hill said this is a very important time in the history of Morehouse, not just because of the school's150th birthday, but that students are so far "hopeful" about the college's new leadership and want to learn more about Taggart. He lamented the fact that the school needed a reason to celebrate and an impetus to push it forward.
He was resolute when he refuted some media reports that said the students, faculty and trustee board were "at war": "Morehouse came back and said, 'We aren't afraid of new leaders; we aren't afraid to break tradition; we aren't afraid to step outside the box. And we feel that should be championed. That's the story right there. That Morehouse is creating a new story. And I'm glad that I was a part of this process."
After all, he said, students just want to feel their perspectives and opinions are valued, especially when it comes to decisions that affect their education and their lives.
"The students feel engaged," Hill said. "The students want to be a part of the conversation."