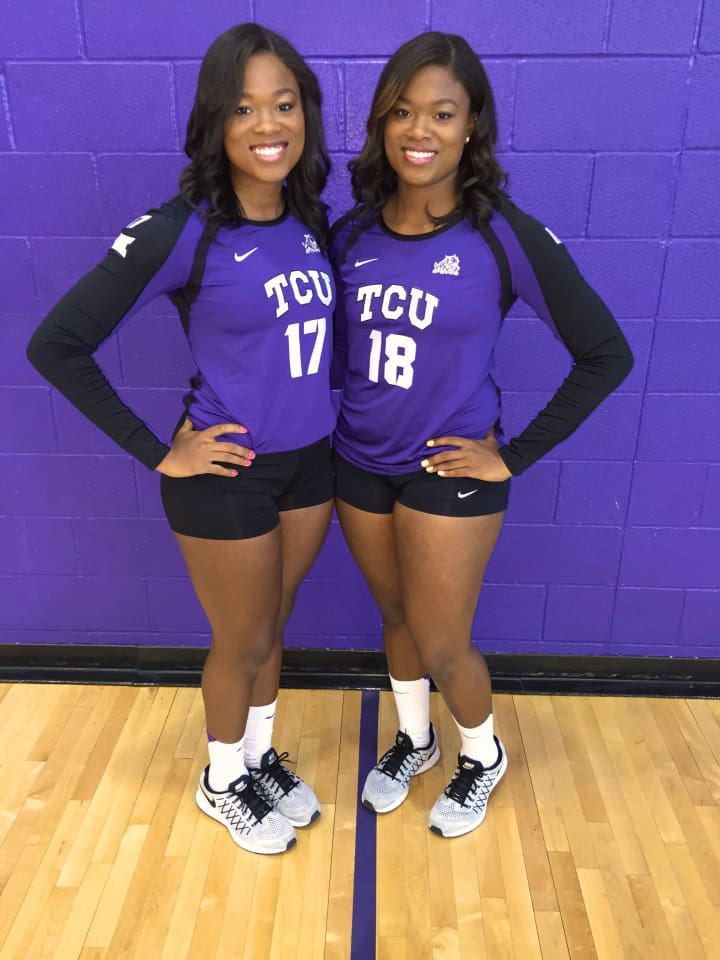 It's no secret that twins share a special bond that fosters a degree of inseparability and highlights their individuality as well.
Another thing about "twinning" is how the siblings can share everything right down to their mannerisms, ideals and style. And it's definitely conceivable that twins can excel at the same sport and pursue similar career paths.
Consider all of the above and throw in the fascinating tidbit that their dad is a celebrated former NBA superstar.
The description fits like a glove for Chyanne and China Perkins, Texas Christian University seniors and daughters of NBA legend Sam Perkins and Kimberly Sanders.
Perkins retired in 2001 after playing 17 memorable NBA seasons. He played power forward and center with four NBA teams including the Dallas Mavericks, Los Angeles Lakers, Seattle Supersonics and Indiana Pacers. His success on the court has evolved into his latest role– as an NBA ambassador for which he travels the world promoting the league.
Identical twins China and Chyanne stand 6 feet tall. The sisters grew up in Los Angeles and undoubtedly inherited their dad's athleticism. We set out to learn a little more about them as they wrap up four exciting seasons of TCU volleyball and prepare for life after college graduation.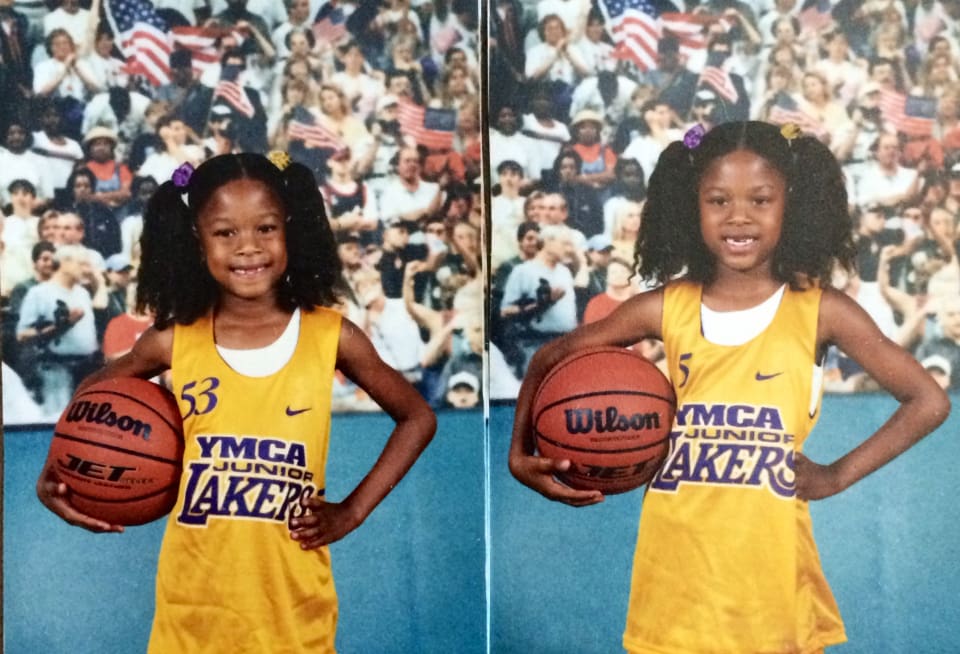 Photos courtesy of the Perkins family and the NBA
Has volleyball always been your primary sport? What factors made you choose TCU?
China: Growing up we tried everything. Basketball was the first sport we really got serious about it until we tried out volleyball. Obviously basketball was in our blood, but I enjoyed playing volleyball much more than anything else, as I grew older.
Choosing TCU wasn't as easy of a choice for me as it was for Chyanne. My sister knew before we were even accepted that this is where she was going to go. I was more interested in exploring a lot of different options. When it came down to making a decision though, nothing else compared to the education I would receive, competing in the Big 12 conference and doing it all with my sister.
What aspect of playing volleyball for TCU has impacted you the most- the training, camaraderie or competition? And why?
Chyanne: I would say the training has impacted me the most. Waking up every day going to workouts, practice, study hall and class can be very tiring. But I think having that set schedule helped me stay focused. There were times I didn't feel like practicing but the camaraderie and competition helped me get through. I enjoy being with my teammates and constantly pushing each other to compete and grow on and off the court.
Most of us would assume you both got your competitive drive from your dad. Is that true? What advice has he given you that sticks with you on and off the court?
China: Yeah, we have always loved to compete. He is more laid back than some people might expect when it comes to trying to "coach us up" but he has always just told us to give it all we have, work hard, and have fun.
Chyanne: Yes we most certainly get our competitive drive from him. He's always told us to push ourselves and work hard at everything we do and that nothing is ever going to be given to us, we have to earn it.
We understand graduation is looming! What degree are you pursuing? And describe your desired career?
China: I will graduate with a degree in Communication Studies with a minor in Journalism in May. I'm not sure exactly which path I want to go yet. I could see myself doing a lot of different things from working in PR, to working in a newsroom or even coaching volleyball. My sister and I have even talked about opening up our own business one day. All of those are very different, but I know I see myself working with people.
Chyanne: I am also getting my degree in Communication Studies with a minor in Sociology. Growing up I've always wanted to work in sports doing PR or management but recently I've set my sights on starting my own business here in the DFW area. So I'm currently in the process of teaching myself a little about business. After living here for four years I found that it was hard, at times, to find convenient, healthy options nearby. So I would like to start my own place that offers healthy and enjoyable foods for students, athletes, and everyday people, that is also affordable.
With Mother's Day approaching, share with us any special wisdom you've received from your mom that has helped you become such poised and focused young women.
China: Well, my mom raised both of us growing up in LA. She taught us what hard work looks like over anything for sure. She's taught us that we have to work for everything we get because life isn't going to just hand things out. She wasn't the person who was able to give us a ton of advice when it came to sports, but she has always made sure we were doing what we loved, and she has always been the loudest in the stands.
Chyanne: My mom always taught us to be the best at whatever we're doing. She made sure we stayed on top of our schoolwork while letting us be active in different extracurricular activities. She drove us to every practice and never missed one of our basketball or volleyball games. She sacrificed so much to make sure we had what we needed and she exemplifies what hard work really is and for that, I'll always be grateful.
Finally, what advice would give to a young girl hoping to follow your path? Someone who hopes to play a sport at the college level, maintain good grades, meet inevitable challenges and enjoy college life — all while remaining focused on a bright future.
China: It's really kind of crazy to think of myself as someone who girls look up to now because I remember being 13 and thinking it would crazy to be in the position I am now. Having girls come up to me after games and ask for an autograph is a huge reason why I love what I do. But to all the young girls, I would say find what you like to do and do it with passion. Whatever it is, it's going to take hard work and dedication. School, your sport, and your social life will all challenge you but it's what comes with being a student- athlete. There will be a lot of times when it seems too hard or you want to give up, but it's all worth it in the end.
Chyanne: I'd say follow your dreams. If you are really passionate about something, go for it! The process will not always be easy but those who can push through the rough patches are the ones who come out successful. We have a saying on my team, "Get 1 percent better." Every day our goal is to get 1% percent better than you are right now. If you are constantly learning and growing to get at least 1 percent better at what you're doing, imagine where you'll be 100 days from now.
–d. camille anglin