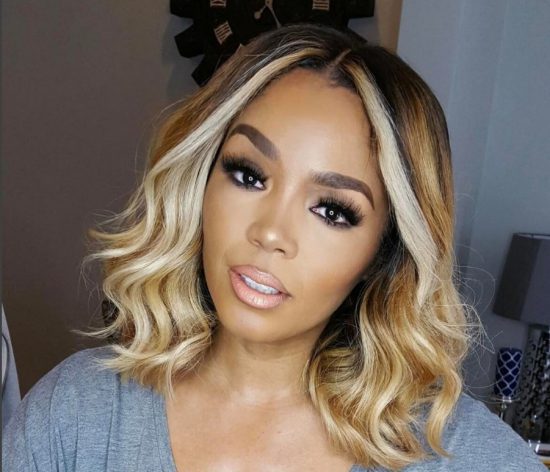 Fans of "Love & Hip Hop Atlanta" have watched this season as Rasheeda and Kirk Frost's marriage has begun to come apart at the seams with the news that Frost cheated on Rasheeda and possibly fathered a child with his mistress. Naturally, fans across the board have been weighing in on the mess that has become the couple's marriage and recently Rasheeda appeared on "The Real" and gave hints as to what the future of her marriage is.
During her sit down with the hosts of "The Real," Rasheeda watched a clip of herself crying to her friend, Tammy Rivera, about how saddened she is at the idea of leaving her husband despite his infidelity. And in talking to the talk show's hosts, Rasheeda explained again that she still loves Frost despite the pain he's put her through.
"Kirk and I have been married for 17 years," said Rasheeda to the hosts, "it's difficult and things happen and you're not like, 'OK, I'm done with you! It's over!' I mean we have a lot of history, we have children, we have businesses. I grew up with this man. And marriage is work. It's a lot of work, like, the ups, the downs, the good, the bad, it's a lot of work."
However, Rasheeda explained that she feels like Frost has crossed a line that she can blur or overlook.
"At the end of the day it's like you've put me in this situation and this is going on with us and as much as I wanna strangle you and choke your a– and I'm mad at you and I'm disappointed in you and I'm ashamed, I love you, though. It just doesn't turn off like that. But you have put me in a place where I have to draw the line," Rasheeda said.
During the segment, Rasheeda also addressed the issue of Frost blaming his cheating on her postpartum depression after the birth of their 3-year-old son, Carter.
"But you know what, though, do we expect anything less when a man is in the hot seat? When you're in the hot seat, you wanna blame others when you know that ain't right," Rasheeda said. "You can't put the fault on anyone else when you have totally yourself made the wrong decision. It doesn't matter if we weren't having sex, if we were … whatever we were going through. You go through a lot in marriages, you go through different seasons, different phases, different things, period. But you're in a commitment as a husband and a wife to be together till death do us part, to go through them [sic] bumps, them [sic] ups and downs."
During another part of the interview, Rasheeda talked about the paternity test regarding the child of Frost's mistress and she warned that if the child is Frost's she's not sharing any of her hard-earned money with his side chick.
"Well, I d— sure ain't paying no woman or having no parts of no d— child support. You better believe that," Rasheeda said.
Well, do you think Rasheeda will leave Frost? Let us know in the comments.