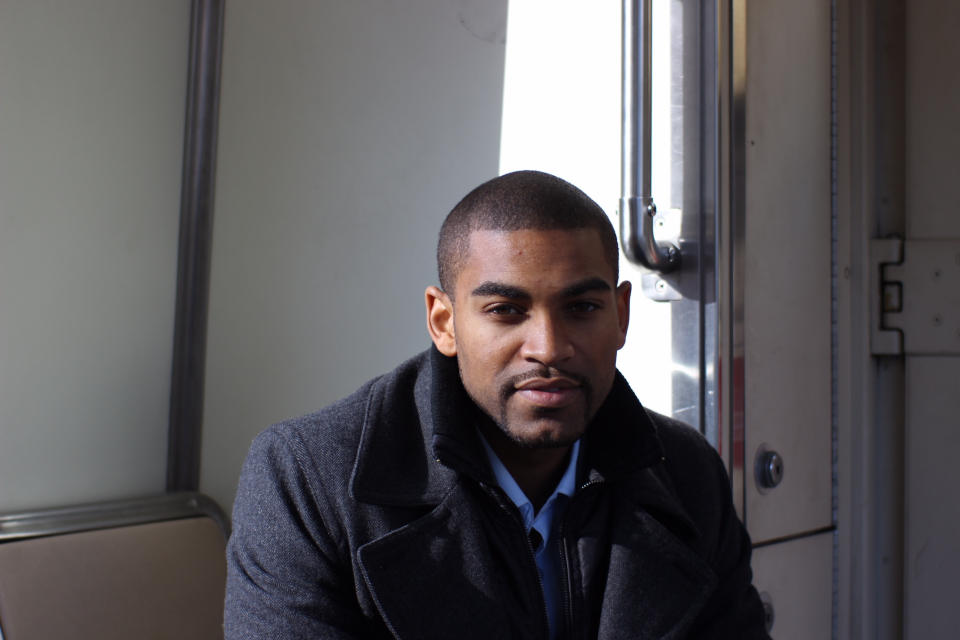 Detroit native Mario Moore's "US IS THEM" exhibit at the Urban Institute for Contemporary Arts in Grand Rapids, Michigan, is "challenging attendees' perceptions on subjects surrounding politics, religion and racism, while simultaneously telling stories through traditional and non-traditional art platforms."
A New York City resident, Moore received a BFA in illustration from the College for Creative Studies (2009) and an MFA in painting from the Yale School of Art (2013). He has participated as an artist-in-residence at Knox College and the Fountainhead residency.
According to his bio, Moore's work has afforded him many opportunities from multiple exhibitions, nationally and internationally, and featured articles in newspapers and magazines. A few places his work has been exhibited include the Charles H. Wright Museum, George N'Namdi Center for Contemporary Art, Driscoll Babcock Gallery, and the Detroit Artists Market. Some of his solo show exhibitions have been seen at Winston-Salem State University's Diggs Gallery and The Urban Institute of Contemporary Art. His work was also included in the Studio Visit Volume 31 (2015) and the Studio Museum in Harlem's catalog, Speaking of People: Ebony, Jet and Contemporary Art (2014). Recently, he was invited by the Friends of African and African American Art to give a lecture on his work at the Detroit Institute of Arts.
Read what he has to say.
What gave you the courage to become an artist?
I had my mother as an example. She is also an artist and from a young age, I would look at her and her friends creating works of art. I was intrigued by my mother and her artistic friends who created what they wanted. It felt like the right way to live, it felt natural to me.
What type of training have you had?
I started drawing from a very young age and my mom would teach drawing classes for adults and I would be there drawing like everyone else. I went to undergrad in Detroit at the College for Creative Studies and received my BFA degree in illustration. In 2013 I earned my MFA in painting from Yale University.
How would you describe your artwork?
My artwork is grounded mostly in painting and I think about how human stories are described in 17th-century Baroque European painting. The drama and almost stage-like setting of those paintings created a sense of urgency within those images but the depiction of the Black body was missing from those narratives. Or if Black people were painted in them they almost appear as shadows and secondary to the central narrative of the work. My artwork expands upon this history of painting by talking about issues and concepts that are connected to my personal experiences and those who are close to me.
Tell us about the most memorable piece of art you ever created.
I think every piece loses its memorabilia once I think about what I am going to make next. Although every now and I again after I revisit a piece that is in someone's collection or a piece I have not seen in a while, it may hit me like, man, that was a good one! I do think the mothers and sons series of paintings I did on copper pop in my head every once in a while because they are pieces about really close family members, specifically the painting I did of my grandmother.
The art world remains a luxury business, how do you stay motivated?
I make sure to keep my work at the forefront. I keep my focus on creating and try to let everything else fall into place. It can be difficult though, especially when you have to worry about trying to get a reasonab[ly] priced studio to create the work to fill some unquantified gallery or art space in hopes of selling something so you can do it all over again. But the work is meant to spark a conversation, to talk about issues that are often ignored. My work cannot just exist as a commodity especially when I am representing Black figures that are historically used as commodities.
How does a person become a collector?
As a collector, you have to collect work you have a genuine interest in. There are many different ways you can become a collector. I think the most important is collecting things you like and things you can afford. This shouldn't stop people from believing things are out of their reach. There are many artist and galleries that will allow you to purchase work on a payment plan. So it is just about doing some research, checking out some art events, galleries and finding the work.
What other artists have inspired you?
I like a lot of dead artists like Diego Velazquez and Caravaggio. As far as a living artist, some of my biggest influences are Kerry James Marshall and Richard Lewis.
What advice do you have for a young person seeking to become an artist?
The best advice is to find a mentor. Whether that is art instructor, artists or someone at an art center. Look into art programs in your local community and see how you can get involved. There will always be someone that wants to share their knowledge.
Where do you envision your art career over the next five years?
Hmmm, I try and think about the whole picture but I have to make sure I am not getting ahead of myself. I take it one painting at a time and consider the historical goal of having my work in conversation with great works of art.
How can people find out more about your artwork?
By checking out my website mariomoorestudio.com. I put all the upcoming news and exhibits in the press section of my website.