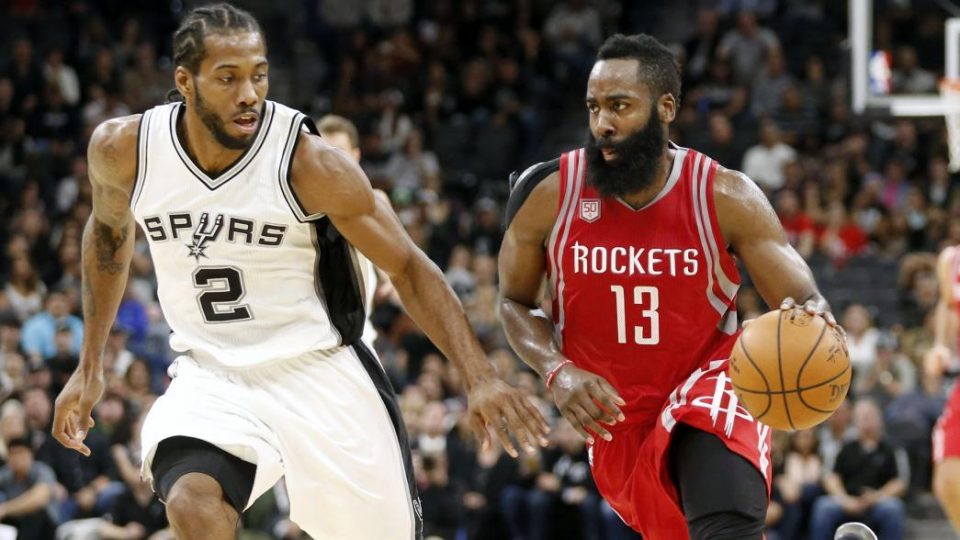 San Antonio Spurs head coach Gregg Popovich made headlines on April 27 when he called his star forward Kawhi Leonard the best player in the world.
"Obviously Kawhi Leonard who is honestly, in my opinion, is the best player in the league right now," Coach Popovich said after the Spurs eliminated the Memphis Grizzlies in Game 6 of the team's first-round series. "He's the best two-way player and does it with so much class. It's impressive."
Leonard emerged as a premier star in the NBA after he won Finals MVP in 2014. He's currently the fourth-leading postseason scorer in the league averaging 31.2 points a contest on the team with the second-best record overall. In the regular year, he shot a higher field goal percentage and had fewer turnovers than both James Harden and Russell Westbrook, the two leading candidates for the award.
Known as a quiet superstar, Game 1 of the Western Conference semifinal against the Houston Rockets was a perfect opportunity for Leonard to make a statement that he's the undervalued MVP candidate this season.
He, in short, blew that opportunity.
Leonard led the Spurs with 21 points, shooting 36 percent from the field, 11 rebounds, and six assists on a night where his team lost by 27 on its home floor. Harden scored 20 points on 46 percent shooting to go along with 14 assists and four steals in the winning effort for the Rockets.
"I think that's why he's in the conversation of MVP," Leonard said of Harden after the Game 1 loss. "He's finding his teammates that are knocking down shots. He's picking the right time to score and to pass."
Coach Popovich criticized the Spurs Game 1 shot selection and Leonard's needs to lead the charge if San Antonio wants to avoid an upset against the Rockets. After Game 1, Harden emphasized the importance of Houston staying "greedy" with a resilient team like the Spurs. Game 2 is on May 3 at 9:30 p.m. ET and the NBA MVP award will be announced on June 26.