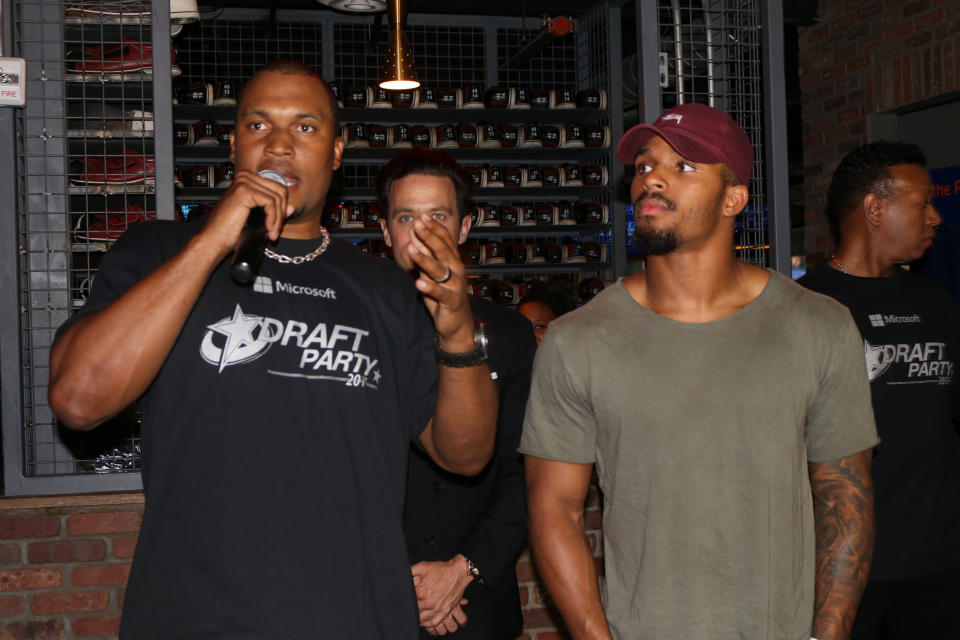 Over the weekend, the NFL Alumni Detroit Chapter hosted its annual Draft Party in downtown Detroit at Punchbowl Social. The event was, sponsored by Microsoft and hosted by Detroit Lions' RB Ameer Abdullah. Charitable attendees networked to sounds by DJ Rue while watching the 2017 NFL Draft and giving back to a very worthy cause. "Tonight is a great atmosphere. You have the NFL Draft on and a lot of people from a lot of respective companies here coming out to support the NFL Alumni Athletic Scholarship Fund. Many of my teammates came out and everyone is just having fun. It's a great turnout and I am overall very happy with the turnout," said Ameer Abdullah.
Rolling out talked to NFL Alumni Detroit Chapter president Ron Rice and NFL Alumni Scholarship chairman Cyrill Weems to get the inside scoop on the Draft Party, scholarship fund, and the upcoming season for the Lions.
Tell us about the event.
Ron Rice: This is our annual Draft Party where we raise money for our scholarship fund to kick-start kids' education who are college bound. We have a number of sponsors and supporters in attendance and we especially want to thank our title sponsor, Microsoft. Being here is definitely a good time. You come in and get to rub elbows with other philanthropic people, athletes who have played or are currently playing, and do something good for the community.
When did you start raising money for the scholarship fund?
Cyrill Weems: The Draft Party is our annual fundraiser for the athletic scholarship fund. We don't wait until right before or when scholarships are due to our students; we start now. Less than a week ago, we issued our 2017 scholarship to deserving students and the proceeds from our Draft Party today will benefit our 2018 graduates.
Tell us about the silent auction.           
RR: Tonight you have a number of pieces to bid on. We have photos of Bo Schembechler and Jim Harbaugh, items from the Red Wings, a photo of Barry Sanders and the championship team, a Magic Johnson jersey and more! So if you have a couple of dollars, put your name down and you can go home with a nice gift to put on the wall or on your back. And all the proceeds from the silent auction benefit our athletic scholarship find.
What are some programs the NFLA hosts or is associated with?
RR: You're here at the NFLA Draft party that supports scholarship funds so that is one area of the NFLA. We also do youth programming in terms of football camps and clinics, a camp held on Belle Isle in the summer months and one at Cass Tech High School. All these camps are free! The number one thing that we do is player services. We create benefits and services for players and their families to take advantage of post-career. We also have events like this for networking purposes for those that are in business; we like to call it opportunity, access, and exposure, which is what the NFL Alumni tries to give all of its members.
How do students get involved in these programs and scholarship opportunities?
CW: We have programs that run all summer. During the summertime, if you visit our website, we list all of our upcoming events. Also, we send out to partner organizations and other organizations around the city that could benefit from our programming. As far as the scholarships go, we announced that our scholarship program is now open. It usually opens close to the end of the year allowing students to submit their scholarships online, which is much easier to access. Once you submit your application, the scholarship committee dedicates time to reading the essays and their qualifications. Our goal is solidifying students based on the scoring rubric as well as their need for scholarship money and the advancement of their college career.
What do you guys think about the draft so far for the Lions this year?
RR: The prognosticators — it could be a hit or miss. The bottom line is, come September when it's real bullets, how do they perform then. Most of the guys were great players in college and as long as you can put a good product on the field come this fall, that's most important. My opinion of the draft, it's a wait and see kind of deal.
CW: For me, I think the team itself and the leadership of the team know what their needs are so who they pick and how they pick them is up to them. For us, it's just good to see them picking up talent. Like Ron said, you still have to get through training camp, still have to get through pre-season and you still have to get on the field. So those opportunities are still to come but I think that any of these guys who play at the level they played at in college have the opportunity to play in the NFL and it's up to them at this point.
What are you expecting this upcoming season for the Lions?
CW: I always expect the best out of the Lions. This is home for me and I've always seen the potential. We have a great coach and it's really putting all the pieces of the puzzle together to try to get to a championship; every year I think they can make the championship.
RR: You look for progress. The thing is, we've seen inconsistent progress to no progress. To really, truly be satisfied, we can't go to the playoffs and get knocked out of the first round; we have to go deep. Hopefully, we can get a championship because that's what everyone talks about, but we haven't been able to put it together from the times I've played, to the guys that were before me, to the guys now. When everyone is out here busting their tails, they're coaching hard, and everything like that, we can keep hope alive. So let's make some plays and win some games.
Photos credit: Bobby Spears