"Everything has just been so surreal." We're backstage with your new #MissUSA. pic.twitter.com/eXq0jT1sfX

— Miss USA (@MissUSA) May 15, 2017
Miss District of Columbia Kara McCullough was crowned Miss USA 2017 on Sunday, May 14, 2017, at the Mandalay Bay Convention Center in Las Vegas. It's the second consecutive year that a contestant from the nation's capital won the annual competition.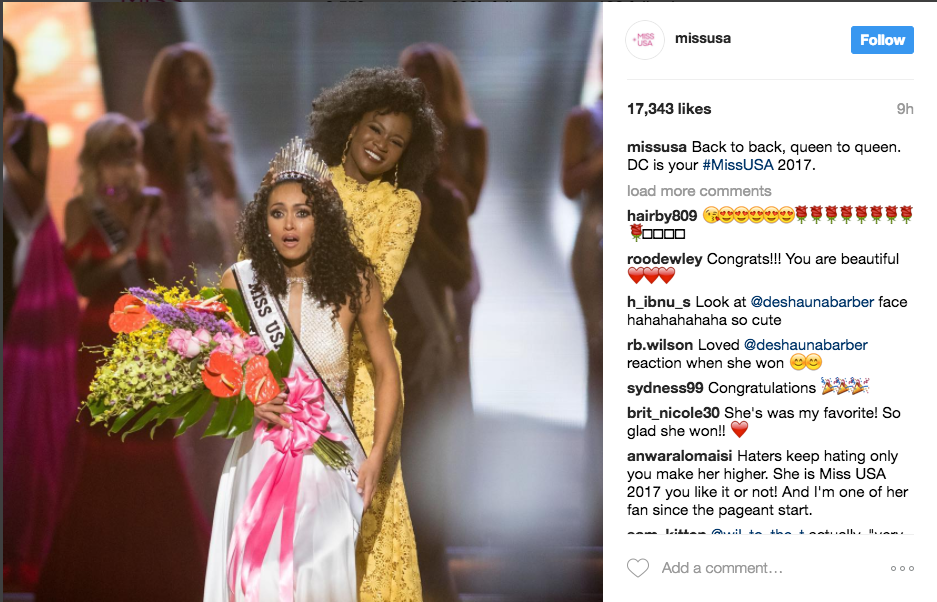 The 25-year-old pageant queen is a nuclear chemist who graduated from South Carolina State University with a degree in chemistry and a concentration in radio chemistry. She works as a physical scientist for the U.S. Nuclear Regulatory Commission.
And your 2017 #MissUSA is…

Miss District of Columbia, Kara McCullough! pic.twitter.com/7LxXPBPfeu

— Miss USA (@MissUSA) May 15, 2017
During a round of questions, McCullough highlighted her idol Annie Malone — Madam C.J. Walker's mentor and McCullough's science role model.
McCullough doesn't call herself a feminist, she prefers the term "equalism," saying "Women, we are just as equal as men, especially in the workplace."
Last year's winner and fellow D.C. resident Deshauna Barber — who became the first-ever member of the military to win — dedicated her final walk to her mother, who died of lung cancer three months after she was crowned.
Next step for McCullough, the 65th woman crowned Miss USA, will represent the U.S. in the Miss Universe contest.
After being crowned, McCullough told the media, "I'm extremely thankful for this opportunity. I just want to encourage so many women nationwide to find their passion in any subject possible and understand that nothing is difficult if you really, truly put the work in for it."