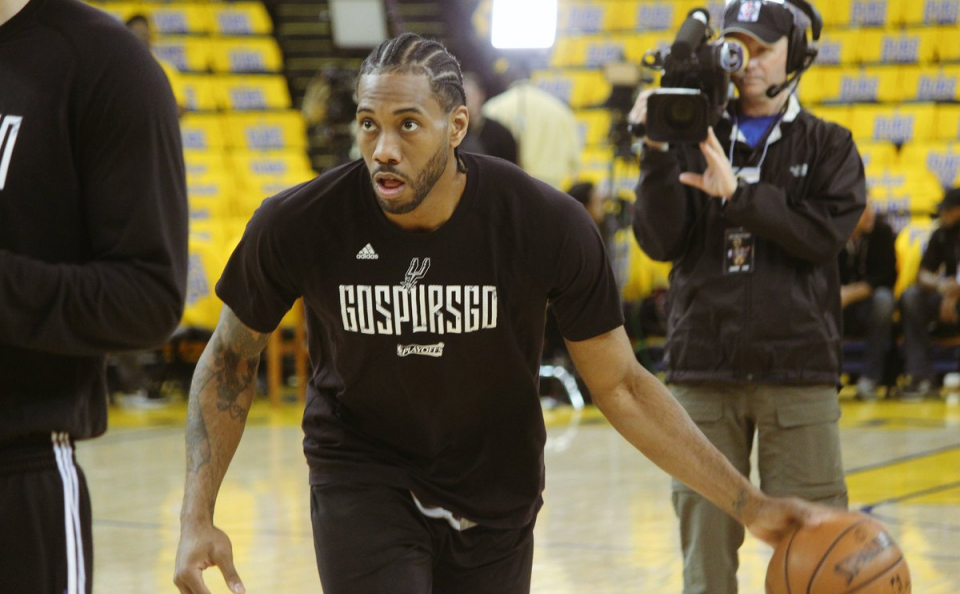 The Golden State Warriors retained their undefeated playoff record after defeating the San Antonio Spurs 113-111 in Game 1 of the Western Conference Finals. Warriors guard Stephen Curry led the charge for Golden State with 40 points, seven rebounds, three assists and three steals. Warriors forward Kevin Durant also played a large role in the victory, with 34 points, five rebounds and four assists. The Spurs lost a 25-point lead after star forward Kawhi Leonard reinjured his left ankle in the third quarter after landing on Warriors center Zaza Pauchila's foot after a field goal attempt. San Antonio Spurs head coach Greg Popovich said he had no update on Leonard's injury after Game 1.
"Huge," Spurs guard Manu Ginobili said of Leonard's impact on the game. "We need Kawhi to create. To score. He means a lot to this team and we were doing really well. When he went down, the Warriors were starting to pick up. [The Warriors] started feeling good about themselves. [That started] to increase the pressure on everybody else and that's when we struggled because we couldn't have the guy that runs those plays and get[s] that pressure off."
As one of the league's top candidates for MVP, Leonard obviously makes a huge impact on the results of this series, but even without him- the Spurs aren't doomed. It was only May 11 when San Antonio eliminated the Houston Rockets on the road in Game 6 by 39 points without Leonard. Spurs forward LaMarcus Aldridge is a player that appears to be coming back to his former self, contributing 28 points, eight rebounds and three steals in Game 1 for San Antonio. Popovich's coaching adjustments, along with the team's veterans Pau Gasol, Patty Mills, Danny Green and David Lee should all be ready to step in for Leonard, just like the bunch did for Tony Parker.
"I feel good," Leonard said after Game 1. "I'll get back healthy. I have faith in my teammates and we're going to see what happens [in] Game 2."
The Spurs will still make this series for the Warriors their toughest one yet, regardless of Leonard because of Jonathan Simmons. In the season-opener on the road in Golden State, Simmons led the Spurs to a shocking victory with 20 points, four rebounds, three assists and a memorable poster on Javale McGee to end the game. Not in the slightest does Simmons or any of these other reasons mean the Spurs will go on to shock the world and eliminate the Warriors, but it does mean the team won't be swept like the Warriors' last two opponents.