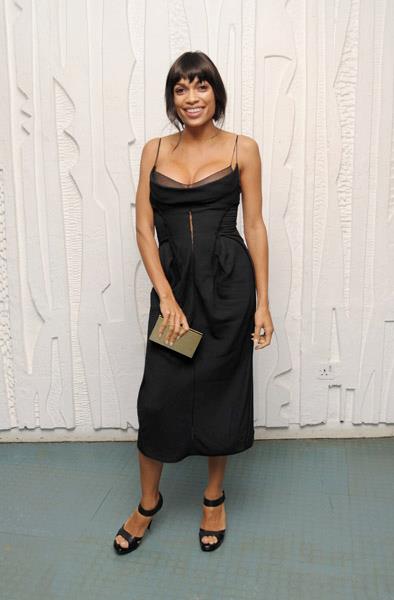 Rosario Dawson's discovers her cousin unresponsive in her Los Angeles pad.
According to multiple reports, the 38-year-old actress, best known for her role in Netflix's hit series "Daredevil," walked downstairs in her Venice home on Thursday, May 11 when she found her 26-year-old cousin, Vanez Ines Vasquez, unconscious. While Dawson immediately called the paramedics, they were unable to revive Vasquez on the scene. She was then taken to St. John's Medical Center in Santa Monica, where she was pronounced dead.
Meanwhile, TMZ, who was first to report news of Vasquez's death, revealed that a toxicology report is still pending, while an autopsy report has been deferred pending additional testing. Still, preliminary tests show that Vasquez's death was likely due to natural causes. Sources say Vasquez worked for Rosario at the time and had recently been suffering from migraines. She also reportedly had hypertension, which she had been under a doctor's care for and was prescribed medication, the entertainment news site indicates.
Vasquez's grieving mother, Lisa Centeno, paid tribute to her late daughter on Facebook. "This is when Danny broke down and Yoselynn held him," she wrote, alongside a photo featuring Vasquez's loved ones gathered at a place she felt "most at peace."
"Then several of us walked over to huddle. I threw the blanket over us, creating a fortress to shield us from the strong winds and provide a more intimate experience as we mourned together in the very place Vaneza was the most at peace," she continued. "Vaneza, my sweet, sweet beautiful baby – your passing has left me destroyed forever but I know you are at peace in Paradise. I love you, my alpha child."
Neither Dawson nor Vasquez's family have publicly released a statement regarding Vasquez's death.
Share your condolences in the comment section below.