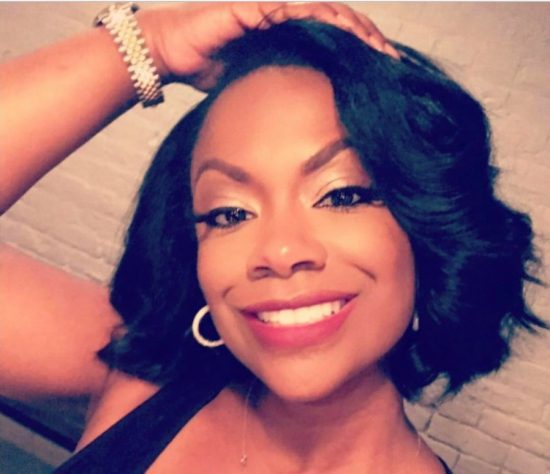 After an entire season of being vilified on "The Real Housewives of Atlanta," it looks like Kandi Burruss is finally getting her justice across the board. After being vindicated from her former "RHOA" co-star Phaedra Parks' allegations that she's a rapist, Burruss' countersuit against a former employee, Johnnie Winston, has been approved by a judge.
As previously reported, Winston was featured on two episodes of "RHOA" this past season as he sought Parks' help in finding a lawyer to help him sue Burruss, accusing his former boss of stealing his ideas for the Old Lady Gang restaurant and for the play A Mother's Love. He also claimed that Burruss paid him unfair wages and owes him over $100,000 in unpaid wages, according to Burruss.
Well, according to the latest reports, documents from the  U.S. District Court for the Northern Division of Georgia show that Burruss has filed a counterclaim against Winston, claiming that Winston made statements against her "with actual malice" to harm her and improve his celebrity status.
Winston's legal team amended their complaint against Burruss, saying her counterclaim was baseless.
"Plaintiff opposes the motion on the grounds that Defendants are adding these counterclaims out of bad faith and with a retaliatory motive and that the counterclaims have no reasonable basis in fact or law," the filing reads. "He also argues that the motion is unduly delayed and that the Defendants have failed to establish good cause under the Federal Rules of Civil Procedure."
However, Burruss' legal team filed a second claim in response to Winston's, saying that Winston's claims are "false," "malicious" and in breach of a Non-Disclosure Agreement that he signed.
"Plaintiff's claims are baseless, are in direct violation of a contractual agreement and are geared specifically to garner attention for Plaintiff and his own company," the filing reads. "Defendants also note that Plaintiff timed the filing of his claims to coincide with the production and airing of the television show."
Burruss also claims that Winston was "classified, treated and compensated as an independent contractor" during his time as her employee and that he made no request for additional payment for February 2016 and August 2016. Burruss says she didn't learn that Winston was unhappy with his wages until he complained about her on "RHOA."
Burruss now wants a trial by jury and is asking the court to dismiss Winston's claims against her.
Who do you think is going to win this legal battle? Our bet is on Burruss, but let us know what you think in the comments.