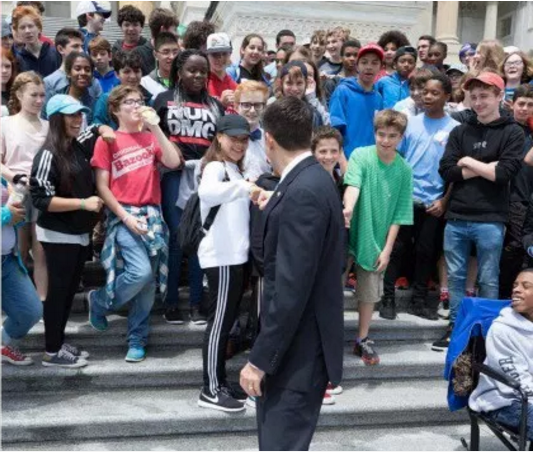 New Jersey middle school students on a field trip to Washington, D.C. created a stir Thursday when many of them refused to take photos with Republican Speaker of the House Paul Ryan.
The students, who were visiting from a progressive, upper/middle-class community, didn't care what Ryan's role in the government is. Reportedly, the students found out about the picture taking the night before it happened. By morning, 100 of them refused to take part.
Student Matthew Malespina couldn't go through with the picture. "It's not just a picture," he said, according to ABC News. "It's being associated with a person who puts his party before his country"
"I'm just not going to do it," Matthew texted to his mother.
"Say you would rather not," she replied and that is what he did.
"The point was, 'I don't want to be associated with him, and his policies and what he stands for,'" said Matthew's mother, Elissa Malespina.
Malespina's words highlight reactions from other parents who also supported the students' denying the Ryan photo opp. The parents' reactions to the incident are symbolic of the deep political divide the country is currently experiencing. Some of the parents' disdain for Ryan dates back to the time he was the vice presidential nominee to Mitt Romney during the 2012 presidential election. Barack Obama, of course, went on to win a second term in the Oval Office. It's hard to imagine that some of the students have not been influenced by their parents' political orientation.
Not all the parents approved of the students' decision, though.
One parent stated on social media that the students should respect Ryan's position in the government even if they disagreed with his politics.
Further, while 100 students did not pose for the cameras, another 100 did.
Miles Handelman was one of the students who took the photo with Ryan.
"I thought it would be very cool just seeing the man who is the third most powerful man in our country. It would be cool, even if you disagree with him," Handelman said.