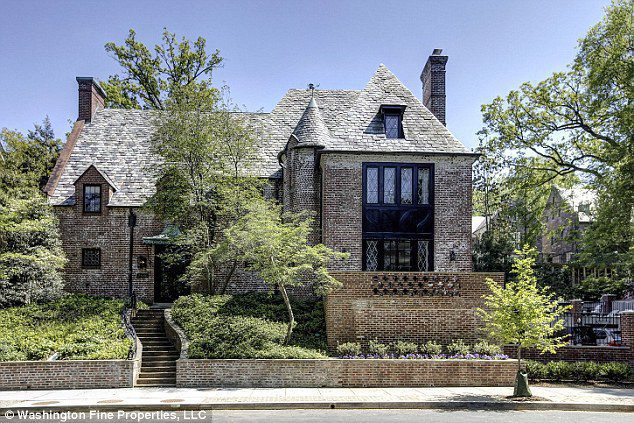 WASHINGTON — Former President Obama and former first lady Michelle purchased the home in the nation's capital that they have been renting since January. The couple closed on the $8.1 million purchase on Wednesday, as first reported in the Washington Post.
Obama spokesman Kevin Lewis confirmed the sale, "Given that President and Mrs. Obama will be in Washington for at least another two-and-a-half years, it made sense for them to buy a home rather than continuing to rent property."
A source said the Obamas will continue to own their Chicago home in the South Side Kenwood community.
The Obamas decided to stay in Washington after leaving the White House on Jan. 20 until younger daughter, Sasha, finishes high school. She will start her junior year of high school at Sidwell Friends in the fall.
The 8,200-square-foot home in the historic Kalorama neighborhood was owned by former Clinton White House press secretary Joe Lockhart and his wife, Giovanna Gray Lockhart.
According to property records filed with the District of Columbia Recorder of Deeds, the Lockharts sold their mansion for $8.1 million to an Obama entity, Homefront Holdings LLC.
Lockhart and Gray, who was Glamour magazine's Washington editor, moved to New York where Lockhart is the National Football League's executive vice president for communications.
The house was sold for $5.295 million on May 12, 2014.
The house was renovated in 2011 and includes up to nine bedrooms, eight-and-a-half bathrooms, a finished basement with room for staff, an over-sized terrace and formal gardens, according to a former listing with Washington Fine Properties. There's also a two-car garage plus ample parking for a Secret Service detail in a gated courtyard that can fit eight to 10 cars.
Kalorama is a trendy area for the D.C. elite. Obama's neighbors include top adviser to President Donald Trump Jared Kushner and his wife, Trump's daughter, Ivanka Trump, as well as Secretary of State Rex Tillerson.