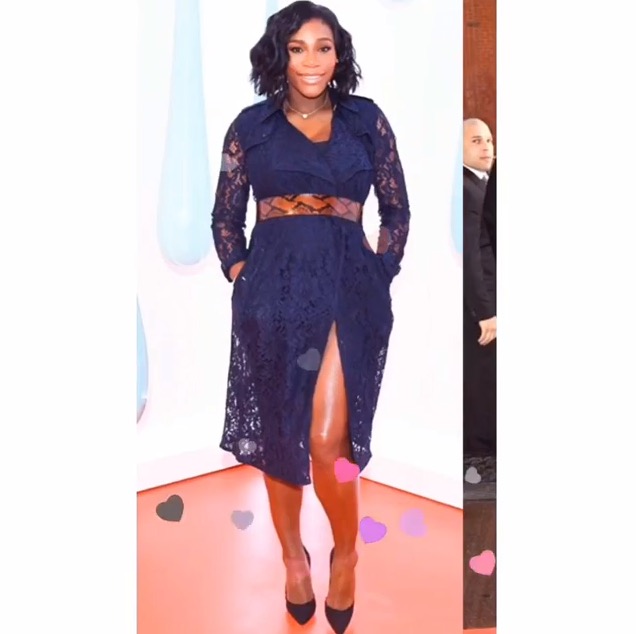 Is Serena Williams having a baby girl?
Well, it appears that her sister and fellow tennis superstar, Venus Williams, has spilled the beans on the sex of Serena's unborn babe. During a recent interview with Eurosport, following her second-round win at the French Open on Wednesday, May 31, Venus was asked what she'd like the baby to call her.
"She's going to call me her favorite aunt," Williams replied, laughing.
"Of course, we're always like, every day it's like, Baby V, Baby Esher, Baby Lyn," she added, naming her other sisters. "We all want the baby to be named after us."
Not to our surprise, Venus' female references led fans to speculate that her sister Serena is on the brink of welcoming a bouncing baby girl.
As previously reported, Serena accidentally announced her pregnancy, posting and then deleting a Snapchat photo of herself showcasing her baby bump at 20 weeks back in April.
"Well, actually it was an accident. I was on vacation just taking some time for myself and I have this thing where I've been checking my status and taking pictures every week to see how far along I'm going," the mom-to-be said during a TED Talk with Gayle King. "I didn't tell a lot of people to be quite honest and I'd been saving it. And you know how social media is when you press the wrong button … and … "
"So thirty minutes later, my phone doesn't ring that much, and thirty minute later I missed like four calls and I'm like, 'that's weird,' and then I picked it up and I was like oh no," she added. "But it was a good moment. I was just going to wait literally just five or six more days so that's okay."
As previously reported, Williams is expecting her first child with her fiance, Reddit co-founder Alexis Ohanian. In December, the pair unveiled their engagement on Reddit, of course. "I came home / A little late / Someone had a bag packed for me / And a carriage awaited / Destination: Rome / To escort me to my very own 'charming' / Back to where our stars first collide / And now it was full circle / At the same table we first met by chance / This time he made it not by chance / But by choice / Down on one knee / He said 4 words / And / isaidyes," wrote Williams.