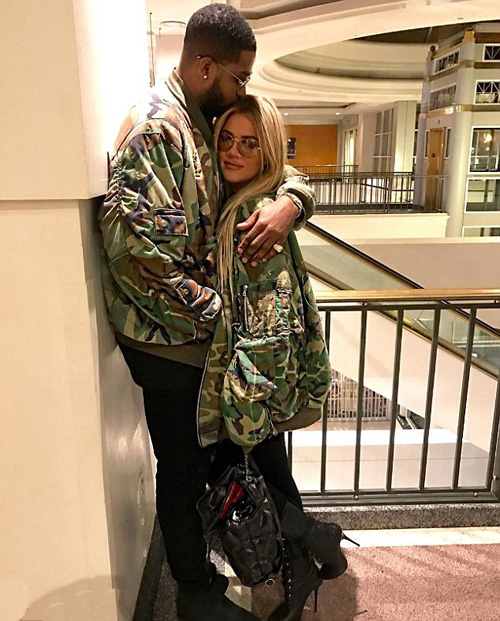 As the Cleveland Cavaliers began the defense of their NBA championship against the Golden State Warriors, you would think that all of the talk would be centered around LeBron James and Kevin Durant
Most of the Cavs' fans' eyes will be on James, hoping that the living legend will be able to once again help his team rise to the challenge presented by the favored Warriors.
In the gossip world, however, the focus has detoured from the superstar and has fallen on teammate Tristan Thompson, who has been ensnared in the Kardashian web.
Thompson has been going out with Khloe Kardashian since September of last year, and the couple appears to be getting serious.
Things got off to a rocky start, as Thompson got another woman pregnant before he started dating Khloe, putting her in the awkward position of supporting her new boyfriend as he welcomed his first child.
But now, sources are claiming that the unusual circumstances of their early days may have been the best thing for the couple. as seeing him raise his son has convinced Khloe that Tristan is the man with whom she wants to start a family.
According to a report published by several media outlets, "Khloe Kardashian, 32, and Tristan Thompson, 26, and a new report claims they may even be expecting their first child together! The 32-year-old reportedly went to a wine tasting with her sisters on May 12, but noticeably opted not to indulge in any alcohol, leading to speculation that she is expecting …"
"Khloe wasn't exactly thrilled when the news [that Jordan was pregnant with Tristan's child] broke, but watching Tristan with his son changed everything … All Khloe's ever wanted was to get married and start a family." Indeed, things seem to be serious as ever between Khloe and Tristan less than a year into their relationship, although he has yet to take the next step and actually pop the question."
According to sources, Khloe has been pressuring Thompson to marry her going as far as to propose she buys her own ring and pays for the wedding.