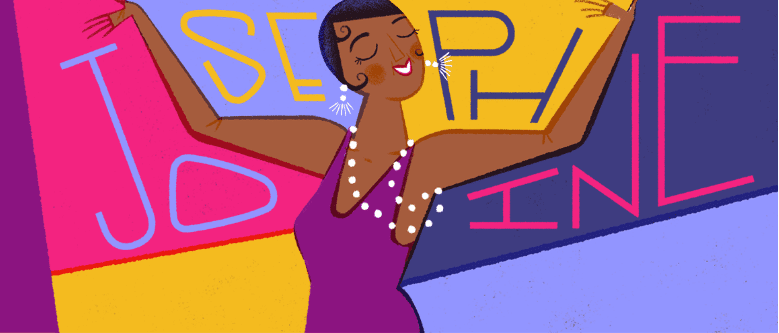 It's June 3, 2017, and it's Josephine Baker's 111th birthday. We are celebrating the St. Louis-born Creole Goddess with this tribute.
Baker, who's illustrated in today's Google Doodle. Google says, "With her kohl-rimmed eyes and exotic costumes, Josephine Baker pounced onto the global stage in the 1920s, becoming a Jazz Age icon and one of the first internationally recognized African-American entertainers. A celebrity in Europe — and one of the most photographed women on the planet — Baker nonetheless faced racially charged comments from the press when she returned to the U.S. in 1936 for a short-lived starring turn in the Broadway series Ziegfeld Follies. Championing diversity and fighting for civil rights would become an enduring concern throughout her life. …There's little doubt why Ernest Hemingway once called her "the most sensational woman anybody ever saw — or ever will."
Here's why Baker was a boss in her heyday:
She fought for diversity and inclusion:
An avid activist, when she visited the US, she demanded to stay at the best hotels and play to integrated audiences.
She possessed keen a business ability:
The Roaring 1920's star 12 adopted children (10 boys and two girls), the "rainbow tribe," who were natives of various countries including Japan, Belgium, Algeria, Argentina, Colombia, Finland, France, Israel (though questionable), Morocco, Ivory Coast and Venezuela.
The multiracial, multinational family were an attraction based on their unique reality. All dressed in white, Baker charged admission to tourists who came to hear them sing, to tour their home, or to watch them play leapfrog in their garden. They appeared in print advertisements and were interviewed by the press.
She would have broken the internet first if she did it for the 'Gram:
In 1926, the biracial beauty was a sex symbol and when she performed her danse sauvage, bent over in her infamous banana skirt, practically nude, during a revue at the Folies-Bergère in Paris, the audience went wild.
She owned real estate in the South of France:
Baker bought a Renaissance castle in Périgord, the Château des Milandes, with more than 30 rooms, on 1,000 acres, which boasted a motel, a bakery, cafés, a jazz club, a miniature golf course, and a wax museum.
A restaurant is named in her honor in New York on Broadway (Times Square):
Ideally located on West 42nd Street along Theatre Row, Chez Josephine is a magnet for dining before or after the theater. They serve French cuisine. It was started by her "13th child," Jean-Claude Baker.
Her name and legend live on:
Baker is the subject of many books including Josephine Baker and the Rainbow Tribe by Matthew Pratt Guterl and a biography by Jean-Claude Baker titled, Josephine: The Hungry Heart.