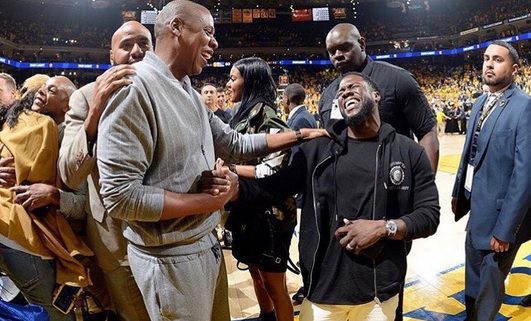 This year's NBA Finals have been one of the most anticipated events in the sports world in the last decade. With the hype come the brightest stars of Hollywood in attendance. Jay-Z, Rihanna, Kevin Hart, 2 Chainz, Odell Beckham Jr., and Vine star King Bach are just a few people who were spotted courtside during Games 1 and 2 in Oakland, California.
Rihanna dominated the headlines during Game 1. On ABC's broadcast of the game, LeBron James threw down a thunderous dunk over Golden State Warriors center JaVale McGee when the pop star walked past the broadcast team. Commentator Jeff Van Gundy interrupted the game's discussion to admire Rihanna's beauty.
"I don't know about this, but Rihanna just walked in front of me," Van Gundy said as his fellow commentators started laughing. "Are you kidding me?!"
Rihanna is a known LeBron James supporter and she bowed to the superstar as she entered Oracle Arena. Before she sat down, she turned around and dabbed on a fan who yelled at her to sit down.
Rihanna and her friends appeared to engage in some courtside trash talk with Golden State Warriors superstar Kevin Durant during Game 1. Durant knocked a three-pointer late in the fourth quarter to put the Warriors up by 21 and then he stared down a spectator in Rihanna's area.
"I don't even remember that," Durant said when asked of the stare down after Game 1.
The pop star's trash talk didn't end during the game, however. As Rihanna and her team were leaving Oracle Arena after Game 1, Warriors fans heckled her about James' loss.
"It doesn't matter, b—-," Rihanna responded in the cell phone video. "The King [LeBron James] is still the King."
On the court after Game 1, Kevin Hart and Jay-Z met up for a postgame conversation with a photographer waiting to take a picture of the two whenever they were ready. The two were laughing as the conversation came to a close and as they began to pose for the picture, it seemed Jay-Z ordered the photographer to "take a picture while we're joking [or laughing, according to Hart's Instagram]." The scripted-candid moment between the two A-Listers went viral on social media as well.
However, the spectator fight after Game 2 took the cake for strangest fan interaction in the first two games. As cameras followed James and his teammate J.R. Smith head into the locker room, two fans are seen on the screen having at it for just five seconds before the network quickly cuts to another shot. Social media didn't let the quick clip slide though:
Sooo y'all gone ignore them folks fighting 😂😂

— juicy j (@therealjuicyj) June 5, 2017
Beginning with two blowouts, the finals haven't been very interesting at all, but everything surrounding the games has certainly been the exact opposite.