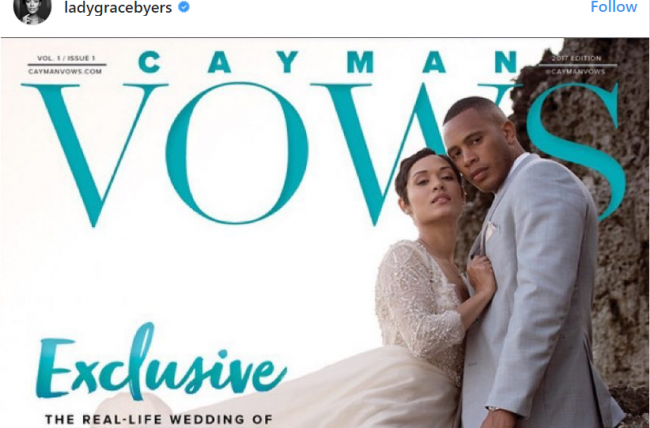 More than a year after their nuptials, "Empire" co-stars Trai Byers and wife Grace Gealey finally released their wedding photos from April 2016.
The couple, who met and fell in love on the set of the blockbuster drama series, got married in the glitzy Caribbean island of Grand Cayman. Some of the cast members were among the wedding party of about 50 people.
Byers, 33, plays Andre Lyon, the eldest son and assumed heir apparent to the Lyons musical empire headed by patriarch Lucious Lyons (played by Terrence Howard). But like Fredo Corleone of The Godfather, however, Andre Lyon was passed over to take the reins of the musical company in favor of the younger son, Jamal (played by Jussie Smollett). Ever since, Byers' character has plotted against his father to take control of the empire.
Gracey Gealey, 32, portrays Anika Calhoun, who has had sexual relations with Lucious Lyons and is inextricably intertwined within the intrigue and drama of "Empire."
The show is currently in its third season and is averaging a 2.8 and 7.8 million viewers per episode.
Byers and Gealey are all smiles in the snapshot he posted along with the caption, "We're married! God is so good. To all who have extended congrats and well wishes, we thank you from the bottom of our hearts. Love, Mr. & Mrs. Byers."
The caption under the above photo reads: "Not our anniversary (it was last month) but it IS the official launch of our wedding photos! We are so honored to grace the very first cover of the brand new 'Cayman Vows' magazine and to finally share snippets of our special day. All moments were captured by the incomparable local talents of @dgp345 and @rebeccadavidsonphotography. Out on stands this week in Grand Cayman and next month in Canada + the USA! ❤️"
It remains to be seen if the couple's work will impact their marriage and vice versa as Byers' and Gealey's characters are involved with other characters on the show (even romantically). But so far, so good, and fans wish the couple the best.
Check out a few more wedding photos of the Byers on the proceeding pages: