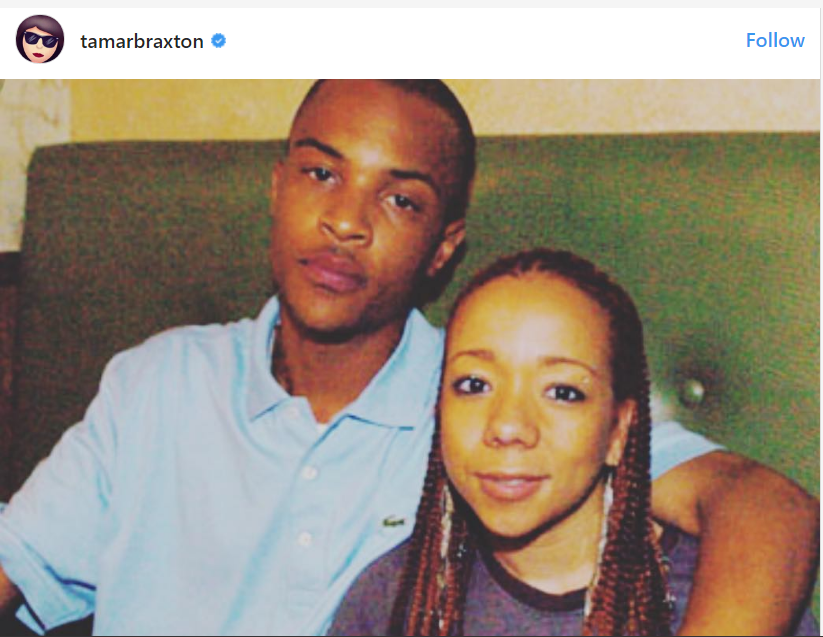 Tamar Braxton has undergone the process of trying to repair the longtime friendship with Tameka "Tiny" Harris with a lengthy apology (see below). However, during the process, Braxton threw some serious shade at Harris' other close friend, Toya Wright, for reasons that have yet to be disclosed — and Wright fired shots right back.
Braxton posted an old photo of Tiny with her estranged husband, rapper T.I. (above), and wrote this long caption underneath:
"Ya know I've been thinking although I don't feel like social media is the best place to work out personal issues…sometimes it can be the most effective way to get your love ones attention. I love you guys and Tiny, you…since I was 19 years old. I would have never dreamed that NONE of us would be in this position. Against public perceptions we know it's NOT because of that show or lies that paperback Toya has said or anyone else who has had something to say about the disagreement you and I have had… because it's simply OUR personal disagreement. I love you and all my God babies (all the kids) with all of my heart and you know this. I also love your husband @troubleman31 because he is my family also. How about we ALL sit down and talk and declare our new Love and mutual respect for each other and I'll pay for and sing at your new vowel renewal ceremony. Life is too short and I'm ok with ignoring single, miserable hateful friends who WANT to see you and I at odds and instigating feuds with you and your husband. How about we all come together let it all go and bring you two who were the closest to me and two people who share so much love TOGETHER lean on each other to bring things back together again. who said it will be easy but Love and forgiveness is easier than being mad and full of hate. So with that all being said @majorgirl I'm sorry for my part in the hurt and want to have my best friend AND her family Including all of our kids and TIP all back together again."
Some Instagram users thought it was real shady that Braxton used this opportunity to take a slick, underhanded shot at Wright and let her know about it:
"Ur childish as hell If this was meant for Tiny n Tip u shoulda keep it about them why did u have to drag Toya name in it she haven't said anything bad about you or called u out ur name hell yesterday she even commented on Tiny IG picture of ur son n that was very mature of her unlike u but I hope u n Tiny do sit down n talk get yall friendship back."
Check out Tiny Harris' response, followed by Toya Wright clapping back hard at Braxton for throwing subtle insults her way.