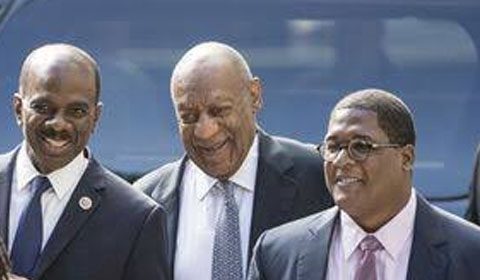 In court, Bill Cosby stands by his word that he didn't tell Andrea Constand's mother, Gianna Constand, he had given her pills because he was "afraid" of the potential "financial consequence" and that he was being recorded. Gianna called him on January 16, 2004, the same day her daughter made the sexual assault allegation.
Cosby admits he gave Andrea Benadryl, an over-the-counter antihistamine over a decade ago. He never told her what the pills were. He didn't wish to be perceived negatively by the public if he'd given Andrea any other drug or had sexual contact with her while she was unconscious.
He said: "I apologized but my apology was, 'My God, I'm in trouble with these people because this is a dirty old man with a young girl.' And the mother seizes on this….
"I became a person attacked…I'm frightened because when I'm saying something Andrea's mother jumps and says, 'What does that mean? So she's in control I'm not going to argue with someone..I apologized twice.
"I'm apologizing because I'm thinking, 'This is a dirty old man with a young girl.' I said to the mother it was digital penetration."
Cosby admits "attacked" during their conversation and he told Gianna he had touched Andrea's breast and vagina but "guaranteed… there was no penile penetration."
When queried further about Andrea and Gianna using the information to "extort, embarrass or humiliate" him he answered "Yes." Has he been extorted or blackmailed before he responded, "Yes."