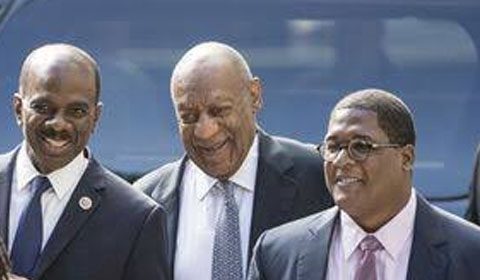 The Bill Cosby legal drama is playing out in a nasty way, as it was revealed that the defense team for the embattled comedian attempted a controversial legal motion. Cosby's lawyers, Brian McMonagle and Angela Agrus, entered a motion to introduce the fact that alleged victim Andrea Constand is a lesbian and also reveal information related to her sexual history. This information would include a lesbian relationship and also the fact that she dated a wealthy man at one point in her life. The sexual orientation of Constand has not been introduced in the trial nor has Constand referred to herself as a lesbian in testimony.
Montgomery County District Attorney Kevin Steele strongly opposed the defense motion and cited the state of Pennsylvania rape shield laws that do not allow the past sexual history of a victim to be used in court. Steele stated in a 20-page response, "Defendant puts a new twist on an old argument: that because Ms. Constand did not reveal this personal detail about her life she must have been asking for the defendant to drug and sexually assault her … defendant's maneuvering … flies in the face of Pennsylvania's Rape Shield Laws, which state a woman's sexual history shall not be admissible in court unless there are extraordinary circumstances. Keeping in mind that there exists absolutely no logical connection between defendant's guilt and Ms. Constand's relationship status, her sexual orientation, or her past partners, introduction of such evidence can serve only to confuse or prejudice … "
Steele went on to declare the motion "unfairly prejudicial," "completely irrelevant" and "victim shaming," in his response. Apparently, Judge Steven O'Neill agreed and denied the motion, declaring that the defense could not introduce any evidence of Constand's past relationships, shooting down the request made by Cosby's legal team.
If convicted, Cosby faces up to 10 years in prison for assaulting Andrea Constand.