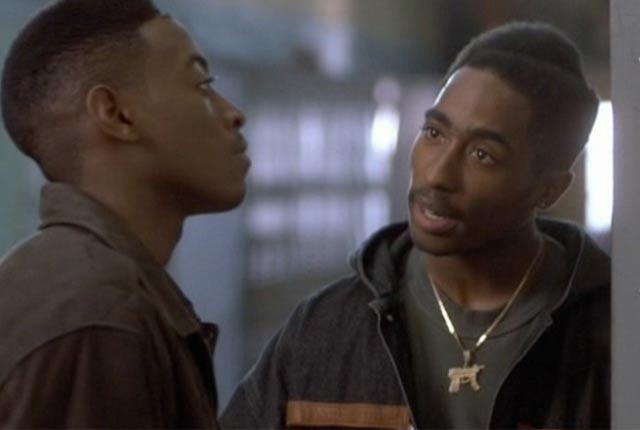 In the winter of 1992, Juice premiered in theaters and changed the way hip-hop culture was presented on film. Starring Omar Epps and Tupac Shakur, the film captured the plight go young Black males searching for guidance in the hip-hop generation.
With this year being the 25th anniversary, we took a moment to speak with director Ernest Dickerson who shared his thoughts on 2 Pac, Black films, and the cultural impact of Juice 25 years later.
Let's go back to when you initially began to shoot Juice. What was the atmosphere like on set?
We were all just trying to make the best movie we could. It was actually raining a lot while filming, but it was awesome working with so many up-and-coming actors. Their energy was just so positive. It was a great experience. Tupac Shakur, Omar Epps and all the other actors had been friends since they were kids so it was dope working with them.
What kind of story were you aiming for with Juice?
The first thing we wanted to do was create a thriller.  Being Black in America is sometimes like living in a thriller movie. What we wanted to do really is showcase the horror that was going on in Black neighborhoods. We wanted to address the lives of Black men living in America and we wanted to touch on that.
What was your first impression of 2 Pac?
He found me by accident actually. He came on set with a friend (Money-B) who auditioned for the role. At that point, I had been through a ton of actors, but none of them were capturing the role of Bishop. 2 Pac understood the pain of that character, it was very relatable for him. He was trained in ballet and acting which was very noticeable.
Two decades later, millennials are now wearing the haircut that 2 Pac wore in the film and calling it a "Juice" cut. What are your thoughts on the culutral impact today?
Wow, I didn't know that. Those haircuts were sculptural. It's similar to what the Watusi tribe whould do when they would sculpt their hair in intersting shapes. I was trying to capture the different fashion trends that Black people set. It kind of just happened, but it helped complete the characters. Larry Cherry was the barber on set. He also did the hair on Spike Lee's films.
What are some new aspects of the film that viewers can expect from the DVD release?
The original ending before the production company told me to cut it. I was under so much pressure to change it, so I felt I had to. When Bishop is hanging over the edge of the building, and he let's go of Q's hand, he would rather die than go to prison. I did this because I wanted to show that he wasn't a punk and it made more sense for an ending.
The