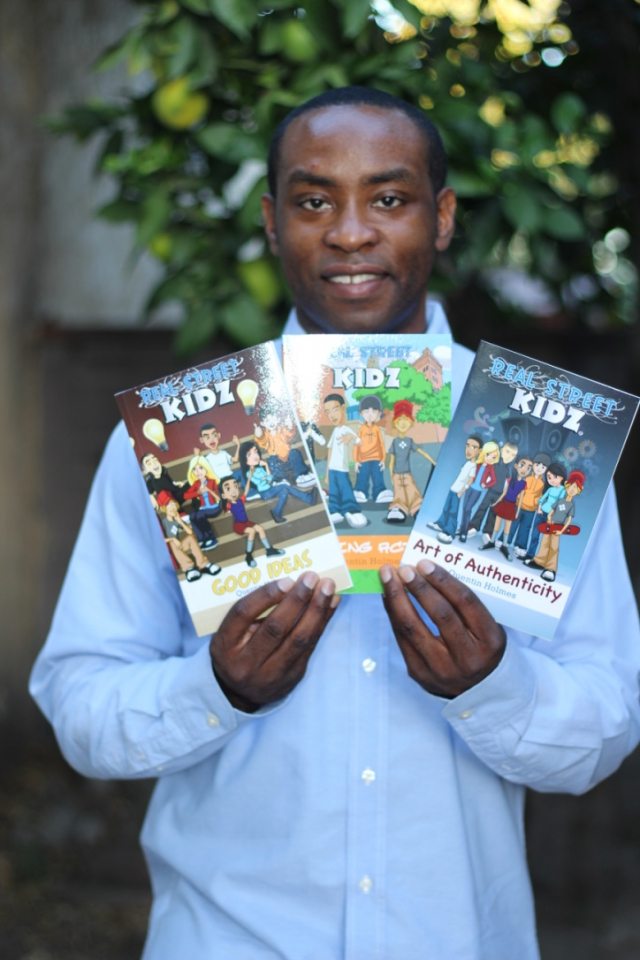 Author, entrepreneur, and brand creator Quentin Holmes has embarked on a mission to empower today's youth through electrifying literature. The University of Michigan graduate has brought his knowledge of social diversity to hard copies of his children's books. As the son of a hardworking father whose career moved the family to various parts of the country for most of his life, Holmes gained exposure early on to the true meaning of culture. Holmes utilizes his book series The Real Street Kids to teach young people how to navigate through society by showing vivid pictures and creating narratives of people from a wide range of social, economic and racial backgrounds. Rolling out spoke with Holmes to discuss his vision for his brand and the knowledge he wants to share with millennials. Check out his responses below.
Why did you decide to target your literary content toward the youth?
I grew up moving a lot because my father worked for the Boy Scouts. Every three to five years were going to a different place. Writing has always been my passion. I knew if I was going to write then I needed to do it from a perspective I know, which was being a new kid in new places and knowing what that felt like. My writing is reflective of my story. As my first piece, I wanted to go there because it was near and dear to my heart. I definitely have a passion for youth and really inspiring them.
What was your favorite childhood book?
I was a big sports kid so I often read books about sports. I definitely remember a big writer out of Detroit called Mitch Albom. He wrote a book about the Fab Five and their journey. I always remember that one being something that really resonated with me. It was amazing because it not only gave me the chance to look at them as sports athletes but look back at their journey see what brought them together. It's not necessarily kids focused content but definitely something I remember that stood out to me early on. Find the thing that's passionate for your particular child and then that will help them and their level of reading.
What is the concept behind your series, Real Street Kids?
The stories center around one of the main characters, which is Q, who is an African American young kid. He moves from New York to California and he befriends some other kids and that becomes his new close friendships. To me, it was important to tell the story of what it's like to put people in an environment where others may not look like you, act like you or come from different situations and see what happens from there. I have the story set at the Real Street Neighborhood Center at the Real Street Neighborhood Center mainly because when I think of diversity and bringing kids together it's usually through shared interests. I wanted to set up a something like a Boys and Girls Club where kids can come from all throughout the neighborhood and interact with each other.
How do you come up with the names for your characters?
Some of the names are people that I know and I always remember people with cool and unique names that represent their personality and where they're from. My friends are just happy when I think about them and put a character under their name. The characteristics of the character usually don't match the actual person it's named after.
What message are you trying to convey to the youth through your writing?
One of the big things is inspiring them to think outside of the box and let them know that they can achieve anything. You have to go with the typical "African Americans only play sports." You can carve your own path and come up with your own ideas. It's also about teamwork and helping each other. It's not just about you winning, but also about your brother and sister winning as well. Those are the key lessons that I put forth in the series, but it's all done in a fun way.
How long does it typically take you to write a book?
The first one took forever. It literally took over a year or so. I originally wanted to create the Real Street Kids as a TV series. I had actually created a thing called a show bible and pitched it to Disney and Nickelodeon. I got a lot of good feedback but they thought the storyline needed a little bit of work. I realized I needed to improve my storytelling ability and that's what pushed me to write the book. After the first book is already in place the other ones become much easier.
Do you believe in the theory of writer's block?
I do. This is coming from a person who has about thirty different concepts that are on computers and some are books and some are for web series or different forms of content. I always say it's good to just brainstorm a lot of ideas and then go back to it.
What is the most effective method of marketing self-published books?
Two things: Number one would be going to a lot of book fairs. I had a great opportunity to showcased my books at the LA Times Book Fair, Chicago Book Fair, Harlem Book Fair and Leimert Park here in Los Angeles. People who attend book fairs are hardcore readers and are really passionate. You really want to go to those environments to build up a base and to get good feedback. It's always a blessing to see people come back and then see them at another book fair for book two. Also just straight PR. As many times as you can speak with great publications like yourself and tell your story and the heart behind it so people can see the connection between your book and your personal journey. Also, social media as well.
What does literary success look like to you?
I've self-published all three of my books. Literary success would be building a loyal following to where people are actively seeking out your books. I also have visions of being a traditionally published author with some of the bigger publishing partners. Lastly, would be generating such a buzz for what I do that it would open up doors for me to bring the characters to life. With the way, content is now with all the different platforms like YouTube, Netflix, and Amazon Prime. There are so many more distribution outlets right now that are hungry for diverse content in literary and in the general markets.
With success comes criticism. Do you read your book reviews? If so, how do you handle negative feedback?
I definitely do. I sell books to schools and have had the students write me letters. It's really great to have that feedback. Whether it's good or bad it's good to hear everything. It's up to the author to make a decision on where you make those adjustments. I've heard people say they don't like the character and the cover or the names of the character. You have to take the criticism with a grain of salt.