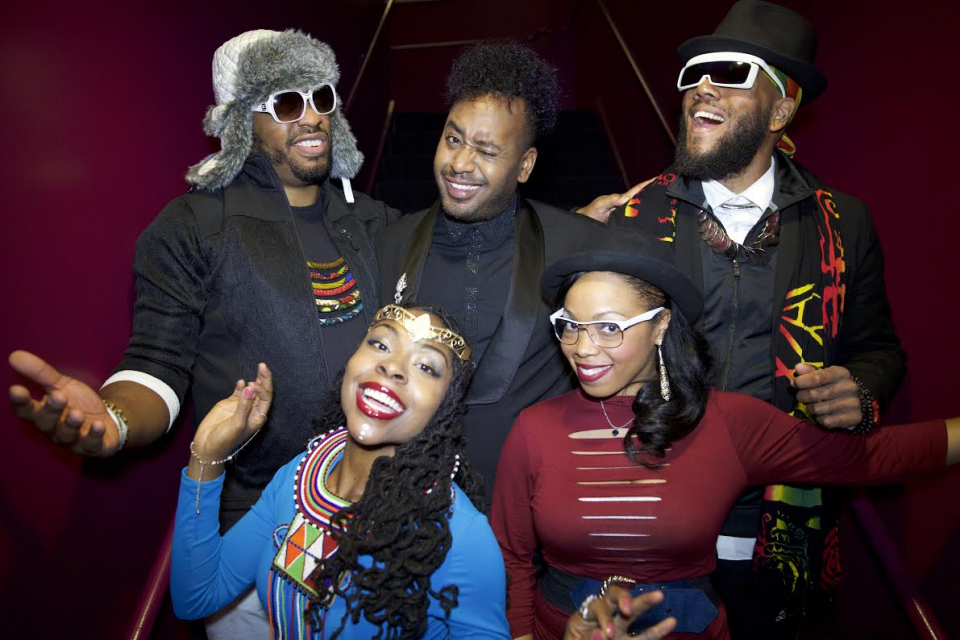 When five equally talented artists combine forces to start a band, only greatness can ensue and the New Orleans band Water Seed is a living, singing, and instrument playing witness of such. Comprised of Lou Hill (drummer and composer), J Sharp (keyboardist), Berkley the Artist (lead vocalist), Cinese (flutist), and Shaleyah (vocalist and percussionist), Water Seed can only be described as a super group, making supernatural feel-good music. Currently, on the road for a three-month tour that's growing every day, Water Seed had to stop in Chi-Town, so rolling out had to get the exclusive. We picked the mind of Water Seed's founder, Hill, to learn the intricacies behind the band blessing us with future funk music.
How did the five members meet to form Water Seed? 
Water Seed originally started as a production writing team, with me and two other founding members that are no longer a part of the group. At that time we would just write and record music, trying to get it to different artists. One day we j decided that we weren't enjoying people performing our music anymore, so we decided to give it a shot as a band.
The present members of the band have all met in a variety of different fashions: J Sharp and I played in a jazz big band at Six Flags in New Orleans. When the opportunity came up for him to play with Water Seed, I would call him in on shows and that eventually grew into him becoming a member. We met Cenise in Atlanta from a Craigslist ad, which is ironic. She put out an ad wanting to play the flute in a band, so we gave her a call and she passed auditions. Shaleyah was performing around town and we wanted to explore a different vocalist; she auditioned and made the cut. And then Berkley was already popular around New Orleans for singing.  We wanted to add yet another singer and his scheduled finally opened up, after us talking about it for a few years, so everything aligned.
What's the meaning behind the group's name, Water Seed?
Water represents knowledge, seed represents growth. At all times we're trying to gain knowledge, grow, and evolve. We're trying our best to be on the cutting edge of art and humanity; pushing boundaries and being confident in our message.
Do you all write and compose all of your own music?
We're a total in-house shop; we write and compose all of our own stuff. The great thing about Water Seed is that any member can leave and have a pretty great solo career. We just all decided to come together behind this great concept.
What was the inspiration and meaning behind your new album We Are Stars?
The title track "We Are Stars" and the theme of the album is a call to acknowledge that with all the foolishness going around, especially in this country, it's the people that make the difference. If we as people and human beings can realize the power we have within ourselves and live within that power, we can change everything we need to change. We don't need to look to some leader or some system to do that. We have everything we need inside of us, we just don't know how to acknowledge or walk in that light.
How would you describe your music to listeners who have never heard it?
It's just future funk; that's what we call it. When you talk genre and that kind of weird thing, people say that what we do is different and that not an insult, it's a compliment. But people are, in the world we live in now, so one lane now.  Though we're on the younger end of this, we still listen to classic songs, as well as modern stuff. You put on a Prince, Michael, Stevie Wonder, or Earth Wind and Fire album, you'll see they went through several different styles of rhythm and blues but they were always still called rhythm and blues. [Back then] you were allowed to explore several different sounds. Even though a lot of people would call it counterproductive, we would like to continue that tradition.
Has the new generation embraced your music since it does have a funky old school feel to it?
Our demographics range from 18-65 at our shows, which is a massive market. We play the same show for silver hair folks at 55 and up that we play 22-year-olds, and make the same sales. It would easier if we were streamlined because people would know exactly what it was, but we have a bigger vision of being a unifying factor where anyone can some to our shows and get exactly what they need.
Describe the feeling you get while on stage and the crowd is singing along to all of your hits?
It's literally a divine situation. We don't take for granted that we're doing something that a lot of people wish they could do. It's a lot of hardworking artists that never get to the point where we are. So every time someone knows any of the lyrics and sing the song, or tell us we were great or amazing, we accept that as if it's the first time hearing it. As an artist, the biggest compliment that you can get is someone actually understanding what you're trying to communicate. For a song or idea to start in your head and grow all the way to the point where people are identifying with that, it's a huge compliment and uplifting. It helps us keep going.
What can Chicagoans expect from your show this Friday at Chop Shop?
Oh, they're going to get the full blast! This is part three of the tour, so they're going to get a great show. We're going to try and blow everybody's mind.
Tickets to see Water Seed on June 16 in Chicago can be found here.