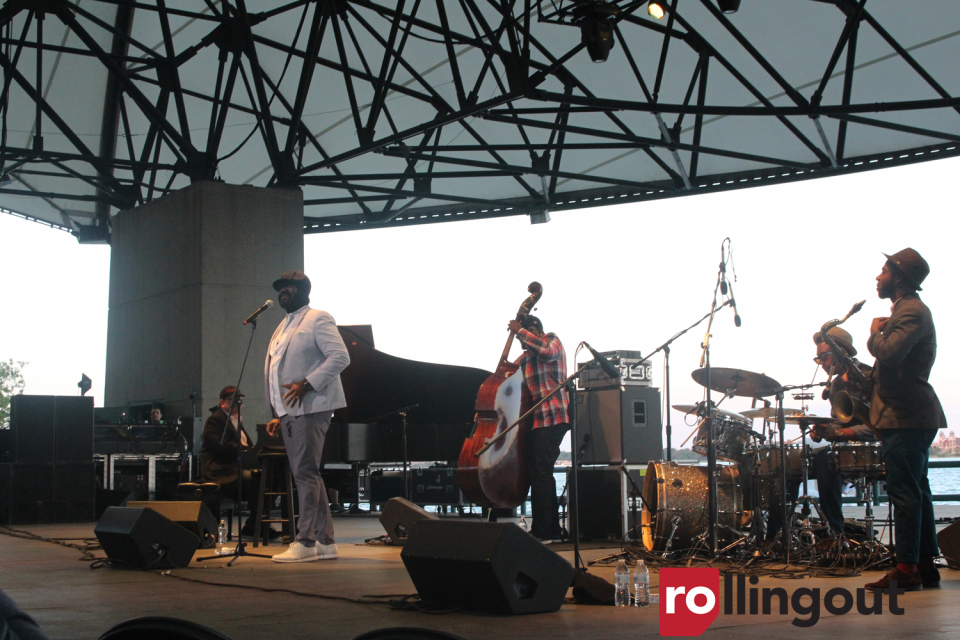 We're sure you've heard of the soulful, Grammy Award winning jazz musician Gregory Porter, and if you haven't then we're sure you've definitely heard his music. One of his hottest songs out on his fourth album Take Me to the Alley,, is the jazzy-blues infused duet with Kem titled "Holding On." His old-school, almost Negro spiritual-like voice is rich, full-bodied and pure. Seeing him live is definitely a treat and something you must experience if you love jazz music.
Porter was the first to perform during Chene Park's Jazzy Night music series in Detroit, held on Wednesday's nights. The productions are put on by the longtime production company, The Right Productions. When asked why they produce a jazz series on Wednesdays, Shahida Mausi, the president and CEO of the Right Productions Inc., and general manager of Chene Park Amphitheater had this to say: "Summertime in Detroit means Chene Park Amphitheater. We are honored to have McDonald's Corporation, as the title sponsor for the 2017 concert series at Chene Park. Every season we work hard to bring Detroit the very best in concert shows and entertainment events. We are thrilled to kick off our season with Gregory Porter."
Rolling out sat down exclusively with Porter to explore just who the jazz singer is and to see what he's all about. Check out the exclusive interview below to see what he had to say.
You have such an inspiring story. You were a former athlete on a full ride scholarship at San Diego State with dreams of making it to the pros, but in college, something happened. Tell us about that.
I injured my shoulder and I couldn't even run anymore. It was like I wasn't even an athlete after that. So, in a way, it was a search for re-identifying myself. At that age, those titles are important and you carry that —"'I'm an athlete; this is who I am." So, I lost that identity and I went back to my original love, which was music and I started to just involve myself wherever I could and sing. Organically, I found my way here. I was studying personnel management and I thought that's what I'd be doing, that and city planning. But, it was a slow process, going to jam sessions, and engaging with musicians and really living life and trying to figure out what it was that I really wanted to say. I think that may be the thing that I'm most proud of in my career — is that I figured out most what I wanted to say before I stepped in front of the lights. And that took time for me. The broken heart had to happen, and life experiences. And now, I'm writing about my life as my life continues. And always the energy of my mother is in music, it's just there.
We did hear that your mom died when you were really young. She was part of your inspiration to sing and she told you to "sing, baby, sing!" Tell us more about that.
Even if I tried to sit down and tried to write something that was totally away from the scope of my music, it would be like, you know, a love song. And out of nowhere, I'd start, (breaks out singing a soulful melody) 'I wish my momma was here! A strong, strong steady rose. She would know what to do, what to say, how to pray'.  – You know what I mean? So, that's organic. That's real. So, I think in order for me to have energy and fuel behind the music, it has to be something that I love and that I care about.
Do you write your own music and are your music roots rooted in the church?
Yes, I write my own music and I'm rooted in COGIC (Church of God in Christ).
Now, you're from California, but you ended up in New York and that's where you got your big break?
Well, I went to New York and I was doing a theater piece about Black music and about the blues and its influence and where it came from and how it influenced all types of American music. At any rate, that helped me to appreciate my upbringing as I grew up in Bakersfield, CA. But Bakersfield is [very similar] to the south, so country-gospel-blues, which is the roots of COGIC music, it's gospel blues. So, at the moment in which I put that into my jazz and I expressed myself that way is when I started to [soar]. And the funny thing about that music is that it helped me to appreciate this interesting education I got singing with those old saints, those 90-year-old saints. So, if I'm growing up in the '80s and I'm singing with someone who's   90 years old, [then] they were getting something that was right out of the edge of the institution of slavery and that music and that energy that sustains people's emotions. So, I think that helped me to understand the power of music.
You can definitely hear it in your music. And as such, let's talk about your voice for a minute: so smooth, pure, rich, soulful, crisp, deep and wondrous. How did you develop your sound?
So, they're some influences there. I think the clarity of delivery probably comes from listening to hours and hours of the music of Nat King Cole. I remember my mother having a conversation about how she like the way you could understand everything that he was saying. Then you have Donnie Hathaway, I mean, that's a voice that's straight out of the Black church; the groove of Marvin Gaye, the storytelling of Bill Withers — so I listen to those people. I'm not saying I am them, or that I'm as good as them but they're all people who've had a mother that had a strong connection in the church too. Like a Lou Rawls, I mean any of those emotive singers often had that.
You have a new album out now, Take Me to the Alley. What was your inspiration for that new album?
There we go [again] with this place that I tell you I can't get away from my mother. The alley was where I first learned how to sing. The alley is actually a physical street in Bakersfield. They call it the "road," it's Lakewood Avenue; Skid Row — and my mother had a church there. And that's where I learned how to sing in front of these addicted — some of them prostitutes, winos, ali-oop's — these are characters that I sang for.  We'd make sandwiches; I'd sing for them, my mother gave them clothes. And sometimes there was a metamorphosis that took place. Sometimes they cleaned up and got their lives together, sometimes they didn't, sometimes they died. I've seen some of them die because of an overdose. But we were there, in the alley, where the fight needed to be.
One last question: what's next for you and where can we find you?
I do about 220-250 shows a year all over the world. I'm trying to build my profile more here in the U.S. My biggest markets are Germany and the UK. The US market is great, and I'm not saying y'all need to come around (chuckles), but I think there's more room for me to do more. Not even talking about sales. I'm just talking about the energy of the music to get out there. But I'm more than lucky. This is more than I asked for. My plate is already too full. [In regard to social media] I'm all over. GregoryPorter.com is my website and all my Twitter information and my FaceBook information is there.