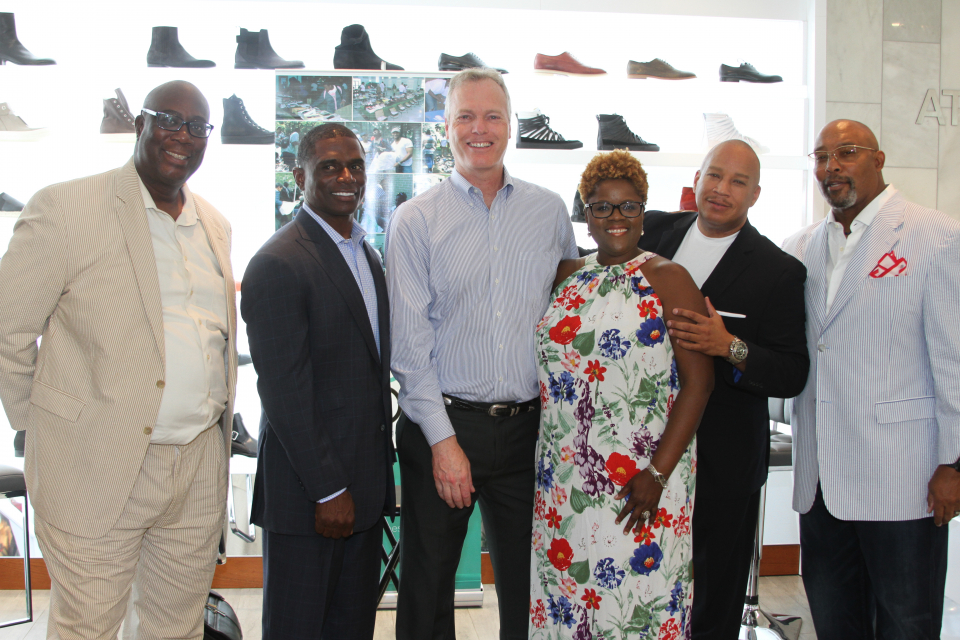 "A Conversation with Men About Men" Charity Sip & Shop brought together community leaders, civic and social nonprofits, foundations, athletes, entertainers and other organizations from around the metro Atlanta area on a panel to discuss the challenges that face our men on Saturday, June 17, just in time for Father's Day.
Five influential men shared their insights and perspectives about the role of today's male in the family, mentoring and altruism during a panel discussion. The panelists included Ted Johnson, attorney, author, movie and television writer, and father; Tyrone Poole, former NFL player, New England Patriot, two-time Super Bowl Champion, author of Ultimate Success In The Game of Life, and father; Dr. John Lipman, founder and medical director, Atlanta Interventional Institute; P.C.Warren A. Huntley, founder and CEO of Warren Huntley Presents Inc., businessman and philanthropist in the city; Robert Kinnebrew who integrated the University of Georgia's football team and went on to become a successful businessman and father.
"We must all come together against police brutality, find solutions to address poverty and economic empowerment, as well as discuss how health and education can save our male youth, uplift and support our men," says Sylvia Webb, founder of 40 Girls and Some Shoes, a nonprofit that aids men, women and children who are taking that all-important first step into a new life by providing them with new and gently worn shoes.
The event was co-hosted by actress Angela Robinson of "The Have and Have Nots."
Here's what the gentlemen shared.
Robert Kinnebrew:
"Growing up, my idol was my father and my [uncles and cousins]. They helped shape my thinking. I was raised in the church. I have been very fortunate to have a strong presence of men from day one. I have a solid group of men in my life today. My father taught me if you are the head of the family, you take care of the family. He was very unselfish and planted a serious seed with me."
Warren Huntley:
"I am not a father, but a favorite uncle. I have four amazing nephews and two amazing dogs. I grew up in Shelby, NC. When you grow up in a small town, everybody does what they need to do to make sure you are doing what you need to. We weren't told that you were supposed to be amazing, work hard and do great things. We watched that you were supposed to be amazing. I watched an amazing father, mother, grandmother and grandfather. My grandfather taught me how to drive; my father taught me how to tie a tie. We understood that you were supposed to work hard and give back. It's not about what you do publicly, it's about what you do personally."
Dr. John Lipman:
"There's no question my dad had a profound influence on me. He grew up very poor. His dad delivered milk and eggs. My dad's goal was to make sure I had it better than him. He sacrificed everything for me and has impressed that on me. He just turned 90. He attends college. He goes to school every day. He takes three courses. He's studying Shakespeare, Economics and a History course. He is a true Renaissance man. He and my mom just celebrated their 60th. I have the incredible luck to be around them."
Tyrone Poole:
"Society has skewed the definition of what a dad and a man is. I have a daughter and two sons. I thank God for them every day. We give the definition of what a man and father are supposed to be but we don't see the true picture. When the definition and picture align, it's the truest depiction of a dad. My dad passed away in 2006. He left me with the fact that a real father and real man is the one who doesn't leave. We are going to make mistakes. We're in it together."
Ted Johnson:
"My dad was a sharecropper in Mississippi in the '30s. He was an orphan and emotionally cold … he had to fend for himself. It took 55 years for me to understand who my father really was. My epiphany came in March of this year when I was diagnosed with cancer. I got my legal affairs together and thought about what can I leave my seven-year-old twins. Every night my dad prayed. He got on his knees and prayed every night. He left that impression on me all these years. I decided the one thing I could leave my kids is that I could teach them how to pray. We started praying. About the fifth day in the process, the kids started praying. The prayers that came from kids would humble you all. They were very honest, sincere and heartfelt. I had my surgery and there was no chemo, dialysis and no drugs. Here I am to speak to you all about my father. If I left my kids today, I would know I left them a sense of God and a sense of prayer."
This event was held at the ATTOMS Men's Clothier in The Shops at Buckhead.