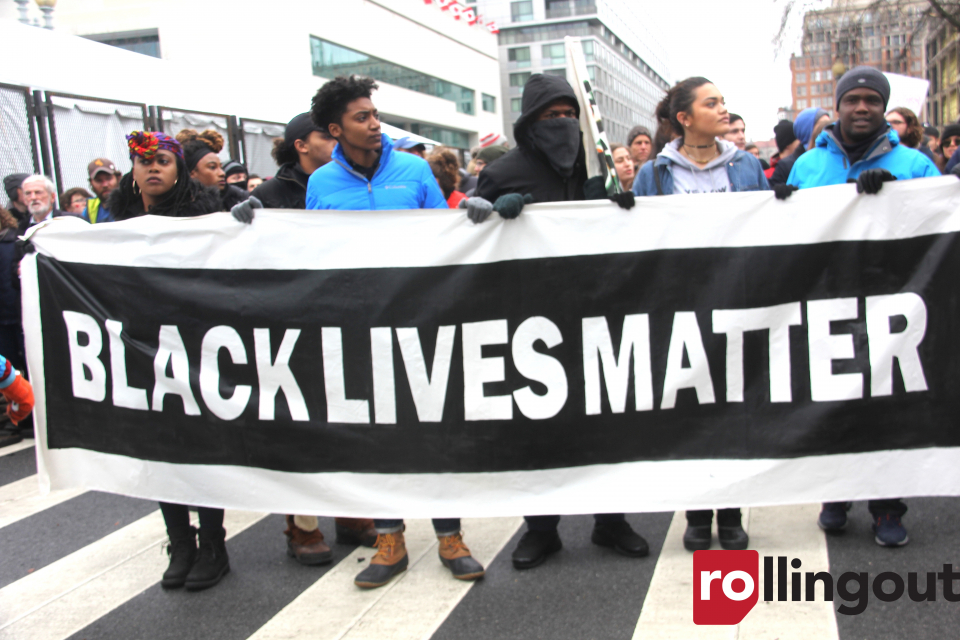 Stories of blood and dead Black folks slain by police fill the news, signaling the start of the 2017 summer riot season. This year, riots will be sponsored in part by the Trump administration and underwritten in thought and action by adherents of systemic racism in America.
So far the programming of essential activities has begun with an unsavory mix of celebrity drama to distract the Black community from the fact that extrajudicial police killings are being signaled as OK in America. That's right, the Bill Cosby trial served its purpose to distract the public from a continuing series of jury verdicts acquitting cops of killing Black men. women and children. The verdicts have left an empty feeling inside the collective souls of many Americans. After all, we were told to let the judicial system play itself out, we have seen the bloody and gruesome video of the dying moments of Philando Castile and now recently the dashcam footage that led to his death. By all accounts for many, it was a clear-cut case of a cop who wanted an excuse to kill a Black man that day. But a jury of our American peers felt that former police officer Jeronimo Yanez was innocent in the shooting death of Castile.
In May 2017, we saw Tulsa, Oklahoma, police officer Betty Jo Shelby acquitted for the extrajudicial killing of Terence Crutcher. Crutcher, an unarmed Black man, was shot dead by Tulsa Police Officer Betty Jo Shelby on the side of a road during a traffic stop. She was later charged with manslaughter in the death of Crutcher and her trial ended with the jury finding her not guilty. It took a jury of nine Whites and three Blacks a little over nine hours of deliberation to render its verdict.  Before announcing the verdict, Judge Doug Drummond said, "This was a very difficult case with lots of difficult issues. I hope everyone can acknowledge that … I'm asking you to trust the system."
Also in May 2017, the story of Alton Sterling was in the news when it was announced that the two White police officers who decided to execute him in Baton Rouge, Louisiana, would not face federal charges. Alton Sterling was just another Black man looking for a way to make ends meet. The self-employed father of three would sell bootleg music outside Triple St. Food in Baton Rouge, Louisiana, to earn extra cash. When Baton Rouge police officers approached Sterling, they were combative. A cellphone video captured two police officers slamming Sterling against a car and tackling him to the ground. They used a taser on Sterling who did not appear to resist arrest. One police officer apparently saw Sterling's gun and yelled, "He's got a gun!" Eyewitnesses say that Sterling never reached for his weapon and the police officers never asked to see a gun permit. Instead, the officers began firing gunshots at point blank range. The decision to not charge the officers federally was made by the Justice Department under President Trump.
Unfortunately, there are other lesser-known cases of a justice system whose scales are tipped on the side of oppression that are too numerous to mention but can easily be found. Yet, Black people protest and hope for peace and justice in a nonviolent manner. Our Black political leaders have not been as outspoken as they should be as if some unknown fear mutes their voices. But like the famous cartoon character Charlie Brown, Black people are told to keep running to kick the football held by Lucy who always snatches it away at the last minute, causing us to fall.
The situation of racial injustice in America may cause many in urban areas where these killings have taken place to begin a more vocal and confrontational action. All through the 2016 presidential campaign, people who are on the right side of social justice and equality marched until their feet got sore and chanted until their voices became hoarse. Galvanized around denying Donald Trump the presidency and even after his inauguration for at least a month social protest continued. But it didn't matter because Donald Trump just doesn't give a damn about the concerns and realities of social justice when it comes to Black people.
This is unfortunate because it plays into the feeling of hopelessness that causes "dis-ease" in the social fabric of America. The situation is so dire, police departments across the United States continue to militarize their weaponry and tactics when dealing with protesters. It's a stark picture when you also realize that across the United States the prison industrial complex is once again back on the upswing. Private prisons suffered a downturn under the Obama administration as attempts were made to tackle the very real issue of mass incarceration within the Black community and other communities of color. That means the government is making space to continue imprisonment and oppression under the guise of law and order.
It's June, not even the true start of summer and yet there is an uneasy feeling on the streets of America that something is getting ready to happen. There has been an increase in White supremacist organizations' activities that include mass shootings of innocent victims of color. But it is rare that these incidents are being called hate crimes. Rather they are always portrayed as the actions of a  mentally unstable individual. In social media, many activists are spreading the word that the injustice cannot continue. Peaceful protests continue to be organized by many community organizations across the country and there is continued hope for change.
Unfortunately, many realize because of continued injustice, cellphones and social media, one incident can be the spark that ignites the summer riots of 2017.