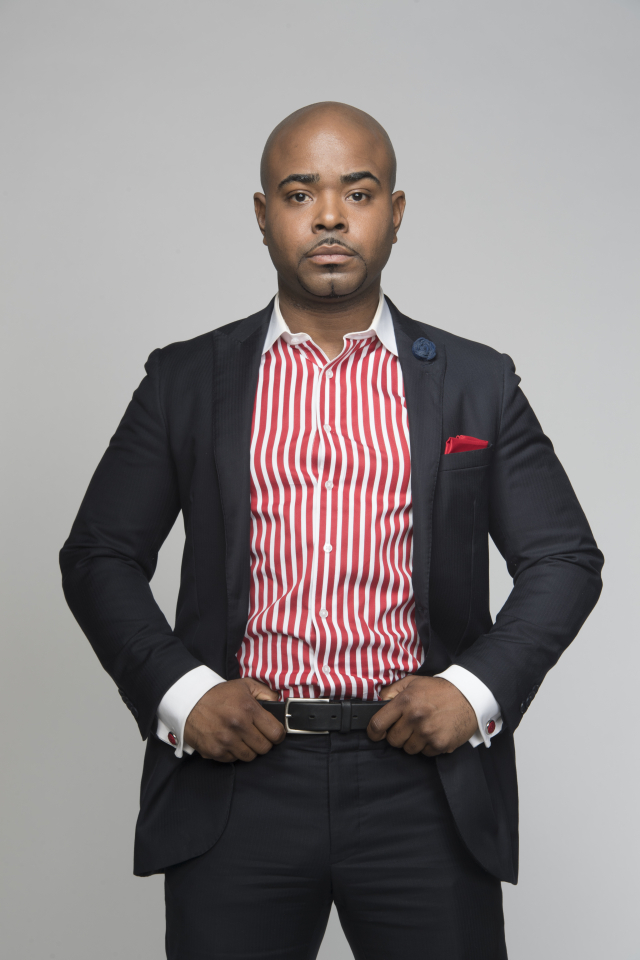 Tell us what you do at Upper Cuts.
I am the vice president of marketing and communications for Upper Cuts LLC. I increase the visibility of the brand through strategic partnerships both regionally and nationally, facilitate media placement, social media management, and creative content creation. I facilitate the luxurious finish that coats this young yet seasoned brand. We enhance the client experience by innovating upgraded luxury and bespoke grooming amenities in-house for the client and events that foster a sense of community for the client.
What inspired you to get into the grooming business?
I was born in Harlem, New York, and raised between Harlem and the Riverdale section of the Bronx. With a history as rich as the Harlem Renaissance, the fashion forwardness of NYC and the upward mobility of African Americans from New York City, I was inspired. From a young age I always wanted to be bespoke, be custom and never knew how to truly get there. It started by creating my own sportswear [line] with my name on it then trickled down to everything else with age. Having a fresh haircut was a prerequisite to social acceptance in Uptown, NYC, so it was never a question of if I would get a haircut weekly it was always when. Being a man of distinction that represents his family well and with style is a virtue that I have carried with me my entire life. The grooming business allows a passion to become profitable.
What types of clients patronize Upper Cuts?
Our average client of Upper Cuts Gentlemen's Grooming Place is the discerning gentleman of taste that knows what he wants and when he wants it, which is often. These men range from professionals across various industries like sports, legal and politics to entrepreneurs of every form of business. We pride ourselves on being a multicultural grooming place that services men of all cultures. On our women's side, Upper Cuts Salon & Spa located in the National Harbor, we service everyone from power brokers and vacationers to entrepreneurs and housewives.
How has men's grooming evolved?
Men's grooming went from the dreaded long day at the barbershop or the lazy home shave to the spa experience that men look forward to as a part of their self-healing routine. This world beats men up physically, mentality and emotionally and the grooming place is now a respite as much as it is a place for beautification. We repair the skin and the soul simultaneously. We listen and also allow our clients the space to be quiet. Since we offer TV's in the mirrors, massage styling chairs and alcoholic beverages, in our D.C. location, we have elevated the end user experience. Grooming, especially for men, now is a spa experience and we host ours in a millennial man cave.
Where do you see men's grooming going in the future?
I see more convergence of industries that are commonly considered separate. Your men's grooming houses will offer more services, higher quality products and focus on the true client experience not just getting as many people in the chair as possible. It is a great day coming in the grooming world and Upper Cuts is doing its part to advance the culture.
How do you attract clients to come experience the amazing services?
Location is everything. We are located two blocks from the White House on the busy downtown D.C. Corridor of 14th Street NW and also at the weekenders' paradise of the National Harbor in Oxon Hill, Maryland. The downtown crowd starts early so we are open at 7am and close at 7pm. This fits everyone's schedule. In the National Harbor, we blend perfectly into the laid back beach feel of the entertainment destination and attract weekenders, vacationers, wedding parties and those seeking sophisticated refuge from the hustle and bustle of D.C. Social media helps tremendously. Also, as we have curated our posts like a gallery that depict the luxuries we offer. We also have great partners in the MGM Grand, Washington Area Concierge Association and more that keep us on the radar to the population at large.
How do you keep the clients as long-term customers?
Consistency is key so of course our groomologists are a curated team of artists. We have scoured the region for the best style creators and have accomplished our goal of a superior grooming team. When you walk in our door we know what you drink, what TV channels you like to watch and how much time you have to be with us. The unknowns are eliminated and we become your trusted partner. We will soon be offering membership packages that keep the experience consistent for those who don't want to think … who just want to relax. The creation of events that take the experience outside of the shop and into restaurants, lounges and rooftops also keeps our clients happy that they have more value for their patronage.
What do you find to be the biggest challenge in being the leading place for men's grooming in the D.C. area?
Fostering a sense of community across the entire D.C. grooming industry. We don't want to treat the other male grooming respites as competitors but as unique facilitators in this grand explosion of men's spa services. Hopefully, that gap will be bridged with future collaborations.
Where can we find out more about Upper Cuts and it services?
Please visit us online at www.uppercutsdc.com or www.uppercutsllc.com. Also on social media, our handle is @uppercutsgents and @uppercutssalonspa.