Migos clash with Chris Brown and Joe Budden at BET Awards (video)
A seemingly innocuous red carpet interview with Migos and rapper Joe Budden of Complex News went left during a noisy BET Awards pre-show Sunday night, prompting a tense confrontation with the hip-hop trio.
"I feel like that's a running joke … with you being left off 'Bad and Boujee,'" "Everday Struggle" co-host DJ Akademiks said to rapper Takeoff, who was talking over the low roar of the red carpet at the Microsoft Theater.
"I ain't left off 'Bad and Boujee.' You think I left off 'Bad and Boujee,'" Takeoff replied.
The interview then went south as the NYC YouTube personality failed to hear Takeoff's response and asked the Georgia native to repeat himself.
A video clip of the interview shows DJ Akademiks, whose real name is Livingston Allen, and Complex anchor Nadeska Alexis leaned in while struggling to hear the artist.
Right after that, Complex's Joe Budden ended the interview, threw his microphone to the ground and stormed off.
The Migos members then went chest-to-chest with Budden as Alexis summoned security. There was someone who was heard yelling, "Chill, chill, chill," before the video abruptly stops.
DJ Akademiks blamed the noise while addressing the drama after the BET Awards.
"I promise I wasn't tryna play Takeoff .. man the red carpet was loud  … no ear piece. Migo legendary, though," he tweeted.
Budden did not address his mic drop but referenced the awkward interview in a tweet.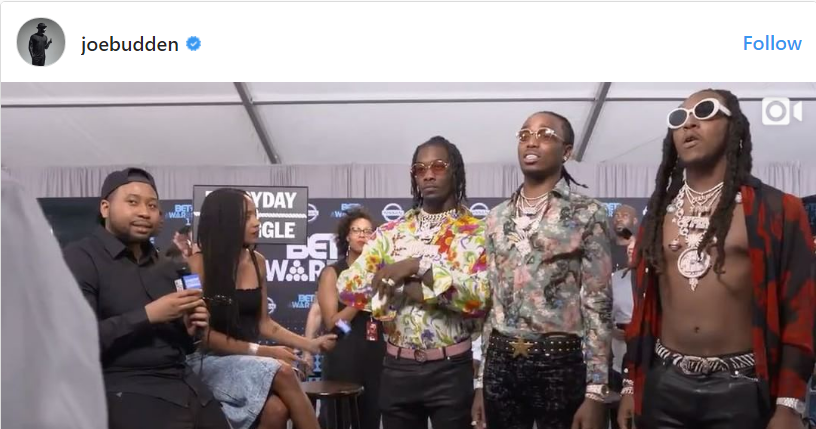 Later, Migos got into a standoff with Chris Brown's crew in a parking garage. TMZ stated a member of Brown's crew shoved Quavo, while someone in the Migos entourage was punched.
A lil footage of the Chris brown & Migos altercation. pic.twitter.com/yIDM2eXkEv

— say cheese (@Saycheese_Media) June 26, 2017
Two videos of the encounter fail to show any violence. Police were present while the groups allegedly feuded. Brown could be seen leaning against a car.
LAPD said there were no arrests following the awards event and that it had been "a quiet night."