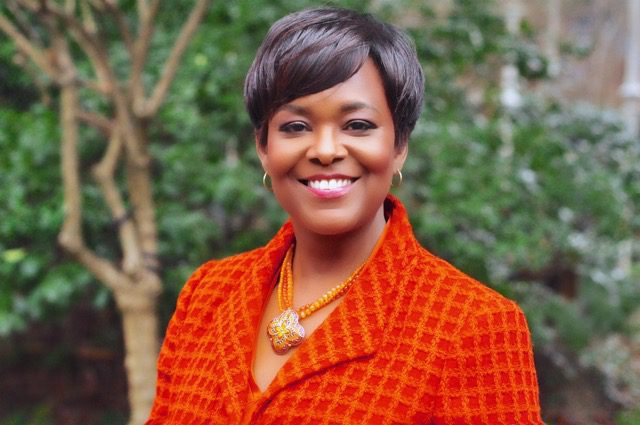 Rose Stuckey Kirk understands the importance of providing opportunities for the youth. In order for all youth to have similar chances at reaching success, they must be exposed to education that will keep them competitive once they enter the workforce.
Kirk serves as chief corporate social responsibility officer at Verizon Communications Inc. The native of Arkansas and graduate of Arkansas State University is also the president of the Verizon Foundation. With her positions, she is able to provide access to new technology and STEM programs to youth who traditionally come from underserved communities.
Kirk recently took a moment to speak with our publication about her role at Verizon and preparing students to be leaders of the next generation.
With your position at Verizon Communications Inc., what are some of the things that you execute daily?
My position at Verizon is now chief corporate social responsibility officer and there are various components to that. One is the foundation and the work that we do with innovative learning. And the second innovative work that we do is with domestic violence prevention. There is also a component that deals with global sustainability initiatives that we oversee. The Verizon Foundation is a 501C3 organization and we are governed by our board and abide by IRS regulations. We have a $100 million portfolio that enables us to work with universities and nonprofit partners to create programs that have a positive impact on society.
Let's talk about the social aspect. How important is it beyond the corporate side to be able to reach back?
There is nothing greater than to be able to use the assets of a company, like Verizon, to have an impact on society. I choose to define that as going after some of the most underserved communities who very often are people of color. And I think a lot about doing that in a moment in time in my own life where I am squeezed. Where I have a child who I am raising to be a corporate citizen himself, at 17. I have a mother who is at a different life stage and dealing with Alzheimer's. I have all the complexities of work and travel and life and a husband, so you feel squeezed. You feel like there is a lot you have to deal with. But when you have a North Star that says it is for the good of the society, it can give you the strength and keep you motivated. You use that technology that is around you, that you're gifting out into schools to help you manage through that.
Let's talk about the STEM program. How important is the STEM program to you? 
One of the questions that we are grappling with in our nation is, 'How do we drive income equality?' How do we think about the space where underserved populations change communities whether we're thinking about coal miners or just certain regions of the country that are trying to figure out where is our economy coming from? Factories are shutting down, clean energy, technology, robotics, artificial intelligence, or whatever it is changing the landscape. So when we think about the work that we are doing in our Verizon Innovative Learning School program, we are thinking about all these issues. We are recognizing that we really need to figure how to take underrepresented or underserved populations of children and put them in the pipeline to compete for a very different type of job of a future and a very different type of economy.  So the plethora of programs we have, that we've invested a $165 million dollars in the past few years, all have at their core the ability to do that.  To open kids eyes to possibility, to teach them the skills around the coding, and artificial intelligence, but also teach them collaboration, teamwork, problem-solving, and design thinking. Those are the skills that will drive the future state and the sooner we teach these kids, the better. When you think about the divide in certain populations where children just don't have access to technology, access to network connectivity, we are stepping into that gap and making sure they do have access.
There are many graduates who will be coming out into the workforce right now. What should they know about entering the workforce?
When I think about graduates that are coming into the workforce, I think it's a number of things. Figure out what risks you are willing to take early why you are unencumbered. Take those risks. It's harder to take risks when there is a mortgage and a family on the other end of it. But take those risks early on. Don't be afraid of it. And be OK with failing, because you are going to fail. And there is a good chance that in your entire life you are going to have some failures. Learn from them, don't blame other people, don't try and justify what they were. Just learn from them. Apply it. Keep moving forward. Find sponsors and mentors of every agenda, every level, every segment, and tap into those people. Then find a network of people that just love you for you. Who don't care what your title is. They don't care how much money you make. You need all of those pieces to be able to navigate. And you have to be able to have that whole ecosystem in place to get through it.