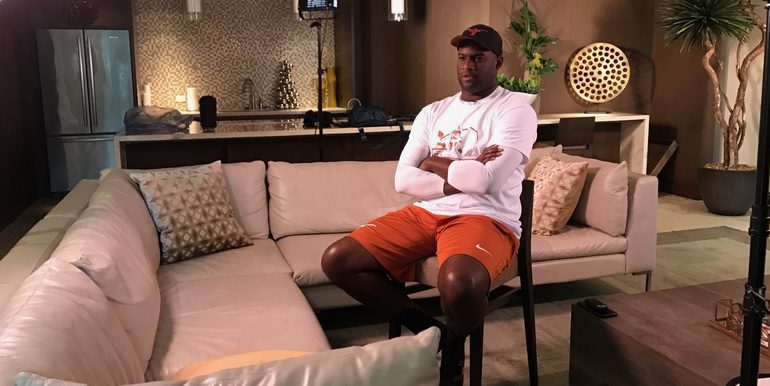 Vince Young hasn't started in an NFL game since 2011. After unsuccessful attempts to make the Buffalo Bills, Cleveland Browns, and Green Bay Packers regular season rosters, Young moved to Canada this year to prove that he can still play. He recently suffered a torn hamstring and was released by the CFL team he signed to play with in March. The injury is just Young's latest career obstacle. Since 2012, it's been reported that Young filed for bankruptcy and was arrested for a DUI. However, there's one thing that continues to motivate him to not give up on his career- the level of current NFL quarterbacks.
In an interview with Sports Illustrated, Young expressed his distaste in some of the league's starters.
"I hate to name-drop, but [Ryan] Fitzpatrick is still playing?! He leads the league in interceptions, and he's still f–king getting paid? I mean, what the f–k is going on?" Young said in the interview.
Young was tied with Kurt Warner for the seventh-most interceptions in the NFL during the 2007 season with 17 of his own. Although Young's been a two-time Pro Bowler in his career, he left the NFL with a 57.9 completion percentage, which is lower than Fitzpatrick's 59.7 percentage.
"I'd see a quarterback and be like, 'Dude is garbage, and I'm over here in the kitchen cooking turkey necks?!" He said.
In a 2015 interview with Graham Bensinger, Young said a part of the reason he didn't get many chances to play in the NFL was that he often bumped heads with former Tennesse Titans head coach Jeff Fisher.
At the University of Texas, Young single-handily defeated one of college football's greatest teams of all-time in the USC Trojans in the 2006 National Championship. He also won the Heisman Trophy that season. A year later, he won the Offensive Rookie of the Year award after throwing for 12 touchdowns, 2199 yards and rushing for 552 yards and seven touchdowns on the ground. An injury announced on June 6, Young is expected to miss four to six weeks from his torn hamstring.