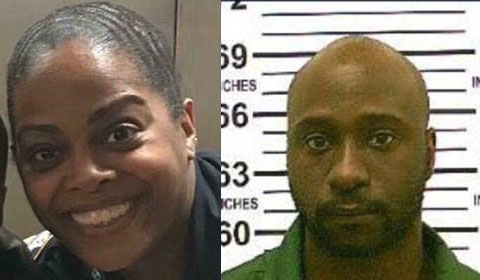 A shooting overnight has claimed the life of NYPD officer Miosotis Familia, 48, a 12-year veteran of the force and mother of three. According to police, Familia was sitting in her patrol car around 12:30 a.m. Wednesday morning when Alexander Bonds,34, approached the car and shot her through the passenger side window striking her in the head.
Bonds then fled the scene on foot as Familia's partner screamed into his radio for help yelling, "I need a f—–g bus! 10-85 10-85! My partner's shot! My partner's shot! My partner's shot! Hurry up central!"
Bonds was confronted a block away by two other police officers and a brief gunfight ensued. During the exchange, Bonds was fatally shot and an innocent bystander was struck in the stomach but was listed in stable condition.
According to the New York Post, Bonds had made anti-cop statements recently on social media and had a long criminal rap sheet. He was currently on parole for a 2014 robbery and had prior arrests for drug violations in 2000 and 2002. Police have reported that he used at least six different aliases and had several addresses in the Bronx, Queens and various homeless shelters throughout New York City.
Officer Familia was rushed to Saint Barnabas Hospital where her fellow officers and three children gathered by her side. Tragically, Familia died from her injuries. As her body was being transported by stretcher to the medical examiner's office, a line of police officers saluted as the vehicle passed.
NYPD Commissioner James P. O'Neill stated, "This is absolutely an unprovoked attack."
For many, it was a reminder of when two NYPD cops were murdered on Saturday, Dec. 20, 2014, in the line of duty. Officers Wenjian Liu and Rafael Ramos were ambushed while sitting in their patrol car outside the Tompkins Houses in Bedford-Stuyvesant, in Brooklyn. The shooter, Ismaaiyl Abdullah Brinsley (aka Ismail Brinsley), 28, fled to a nearby subway station and committed suicide.