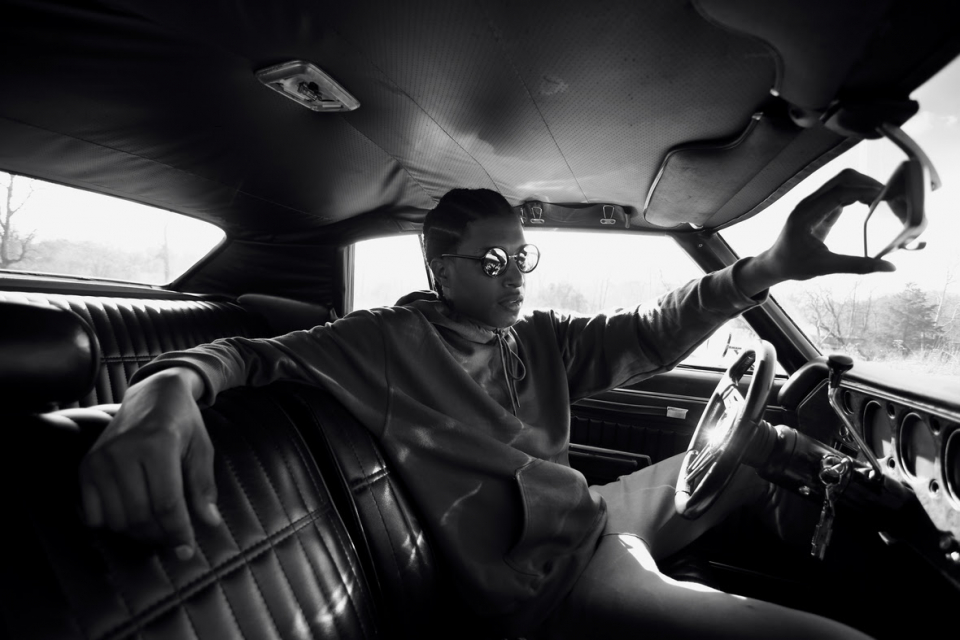 Nashville, Tennessee, is known as the home of country music but rapper Mike Floss is looking to put the city on the map for hip-hop heads. The 24-year-old emcee first put out Don't Blame the Youth in 2015, serving as an impressively comprehensive and mature first release. Then later that year, Tidal featured Floss in an advertisement aired at the 2015 Billboard Music Awards; it was a surprising event for the young rapper that immediately ushered him into the limelight and allowed him to begin his journey as a bona fide musician with something to say. Recently, rolling out had the opportunity to speak with Floss about his background, his upcoming project, and the many ideas behind his music. Don't forget to watch the video interview below.
Most recently you released "Take Yours." It's a pretty intense song about gun violence. Talk about the idea behind that.
Basically, with the visuals, I wanted to present [something different]… you see a lot of rap videos with guns, but usually not in this context. So I wanted to keep the imagery but have it for a different reason. And I think with American being built on gun violence, it's important to think about how that translates over into modern day culture.
Also very prominent in the video is the mask of a man burning and he looks a lot like Donald Trump – were the song and the video inspired by this recent election? 
I think Donald Trump has been one of the biggest symbols of hatred that America has seen in a long time. And I feel like when you put that on fire it just pushes that point even further. You see the fury of it, and I think that's something that we can't just shy away from. I know it's in everybody's faces all day long every day anyway, but I wanted to be an artist that when the history books are written my position is clear. I wanted to definitely include that, and just the connection between gun violence, mass incarceration, and all these issues that play in our community now, they're all intertwined. Most of the time, a lot of these people own all of these companies. The rich are a very small group of people, so all of it is connected, all of it has ties. And I feel like the gun violence conversation and Donald's Trump's election go hand in hand.
So you're next project or EP that's coming out, will it have a lot of heavy political messages woven in it? 
I like to put my political messages more so in visuals and things outside of the music. Sometimes I feel like music should be somewhat relieving, but at the same time, I have very outspoken ideas and opinions. So that goes into the music, but this music is more just me on an emotional level than a political level.
What was it like growing up in Nashville, Tennessee, and what drove you to start making music?
Well, my dad's a musician, so I've been playing trumpet since I was a little kid. I was in the band in school and all that kind of stuff, so I was always into the music, but I didn't start getting into hip-hop until later on. I really started rapping before I started listening to hip-hop for real. People were freestyling in the back of the bus, so I would just jump in, that's just what it was. And eventually, my sister gave me some burnt CDs. Common, Be, The Minstrel Show by Little Brother. My track coach sold bootleg CDs… I got College Dropout from him. So I was on all the backpack rap back then, all the conscious backpack rap, that's what I was on when I first got into hip-hop. That, and of course Young Buck was going crazy at that time, and Ludacris. A few rappers from the radio, but when I heard Common and Mos Def and Kanye and all of them I was like "this is crazy like I've got to get into this!" So that's how it really started.
The EP you released about two years ago now — Don't Blame the Youth — what was the idea behind that project?
I was back and forth between Atlanta at that time, because I did it all with Ducko McFli [a Nashville-born, Atlanta-based producer]. He's got two tracks on the new 2 Chainz album, he's going crazy right now. And he was here, so I was like "Yo, let's make a project," and he basically produced everything but maybe one or two songs. But it was just me going to his house, in the studio with him, just trying to figure out how to find my sound and find my voice and I think that's where it all started. That's when I started realizing "OK, I can see what it is that I'm becoming now." And I just wanted to make the best 10 songs that I could make. It became cohesive during the process, and we had more songs that we didn't put on there because they just didn't fit the sound, but man, I was just trying to make the best songs that I could make at that time.
Where did the name and the cover art for that album come from?
Yeah, so Don't Blame the Youth is the title, and the cover art was the bullets in the cereal bowl. I knew that with that title, what I'm trying to say is that the in the current state, you hear it often and so many times, people saying "man, these new young n—as, they crazy" or "they don't respect the past" or whatever it may be. They kind of see us as the wildest generation yet. And I'm like 'yo, you can't really blame that on us when all we've been fed is violence and hatred and corruption and capitalism and all these kinds of things that we've been taught and seeing on a major scale as to how you succeed in life.' And then, you don't see many other options of being just a good person and getting rich. You know, that never happens. So, that's what we've been fed, and that's what the bullets are in the cereal bowl. You know you wake up in the morning and all they feed you on TV is just garbage, garbage, garbage. So when that comes back out of the youth, you're gonna be mad at them when you've been feeding this to us every single morning? You can't be. So that's how I wanted it all to connect.
What's the story behind the album's lead single "Dope Boy Dreaming" and where did those lyrics come from?
I went to Pearl-Cohn High School in Nashville. I was walking from the third floor down to the second floor, and one of the seniors was just walking down the steps, for no apparent reason, with a fan of like $20 bills just waving them as he was going down the steps. And I knew him, and I knew his crew and I had seen him get arrested in Nashville like four times and I didn't even know him personally. Just from seeing him around I was always seeing him get arrested, but I was always seeing him have money. So I was like "OK, I get what's going on here." But just seeing that much money, and I'm thinking "how do I get that? That's what I want." And I was a good student, you know? I was in honors classes, but I was like this isn't really getting me any money, though. He has the money, so am I doing the wrong thing by thinking I'm going to succeed with this route? Because I'm not seeing any evidence of that. You know I work at Kroger bagging groceries, so it was that moment right there that I said: "maybe I should be like him." But then, you add in "but I see him get arrested all the time" [laughter]. And it's like, there's this dream and there's this infatuation with the other side of reality, where it's also like, that's not the life that I really want.
Any final messages to our readers?
"Take Yours" is out everywhere! I have my first indie album coming out this year — I'm waiting for the name still, but yeah, it's gonna be tight. It's got a really broad range of sound, so everything isn't just like "Take Yours" — [there are] a lot of different vibes on there so it's really tight.