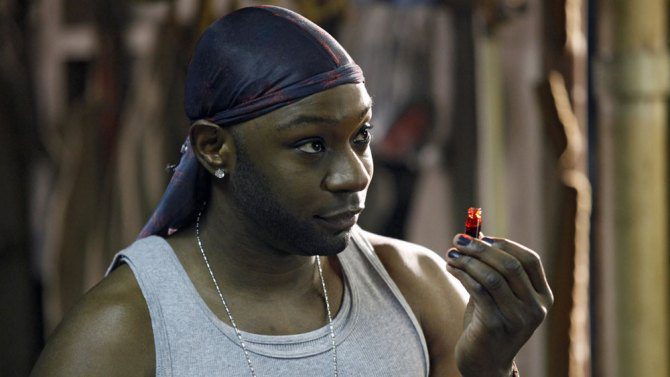 Hollywood is mourning the loss of actor Nelsan Ellis.
Best known for his breakout role as Lafayette on HBO's "True Blood," Ellis reportedly died after complications with heart failure. He was 39.
"We were extremely saddened to hear of the passing of Nelsan Ellis," HBO said in a statement. "Nelsan was a longtime member of the HBO family whose groundbreaking portrayal of Lafayette will be remembered fondly within the overall legacy of 'True Blood.' Nelsan will be dearly missed by his fans and all of us at HBO."
"Nelsan was a singular talent whose creativity never ceased to amaze me," added "True Blood" creator, Alan Ball. "Working with him was a privilege."
Shortly following the news of his death, stars flooded social media to share their condolences. "Shocked & saddened to hear of Nelsan Ellis' passing," Ellis' friend Dulé Hill tweeted. "Major fan of this talented actor. Way too young."
Writer and producer Robert Hewitt Wolfe called Ellis' death "heartbreaking" — tweeting, "Nelsan Ellis was a kind soul and a tremendous talent. What a terrible loss."
For more reactions to Ellis' sudden death, keep scrolling.
Celebrating my brother @OfficialNelsan. 4Eva linked like Bobby Byrd and JB. We love u. We miss u. RIP. https://t.co/ksDIiMGBOZ pic.twitter.com/2HnFEKBBjh

— Chadwick Boseman (@chadwickboseman) July 8, 2017
Crushed today by the loss of my friend and castmate Nelsan Ellis. He was a wonderful person, a pioneer, and a one of a kind artist. RIP pic.twitter.com/fvtquhIac7

— Joe Manganiello (@JoeManganiello) July 8, 2017
Heartbroken about @OfficialNelsan . Such a beautiful human being. Man….

— Tika Sumpter (@iamtikasumpter) July 8, 2017
So so sad to hear about the passing of such an an inspiring artist. Nelsan Ellis, your talent will be remembered for a long time. ?? pic.twitter.com/oJSz8RNiRe

— Yahya Abdul-Mateen 2 (@yahya) July 8, 2017
This DEVASTATING news about @OfficialNelsan just EMPTIED me….His passing is hard to process right now…? So.Gifted.

— Aisha Hinds (@AishaHinds) July 8, 2017
Thank you Nelson Ellis (aka Lafayette) for the wonderful memories & portraying an amazing LGBT+ character on screen. You'll be missed. pic.twitter.com/DL7WXREMOV

— DB™ (@db) July 8, 2017
Outside of "True Blood," Ellis appeared in The Soloist, The Help, Secretariat, and Lee Daniels' The Butler, Get On Up and "Elementary."
He is survived by his grandmother, Alex Brow; his father, Tommie Lee Thompson; and his son, Breon Ellis.
Rest in peace, Ellis. Share your condolences in the comment section below.